Jennifer Blackwood
is an English teacher and contemporary romance author. She lives in Oregon with her husband, son, and poorly behaved black lab puppy. She is the author of Unethical and Foolproof—college romances with a medical twist.
My Hall Pass list is a little all over the place. I love different types of heroes—YA, NA, Adult. Sometimes I'm in the mood for a wise-ass, sometimes I want a guy with a heart of gold. Whatever it is, all the gentleman on this list are forever my favorite heroes for their own unique reasons =)
Drew Evans
from
Tangled
by Emma Chase:
There's something about a smart ass that drives me insane (in a good way!). Drew's quick wit and skills in the bedroom put him in the number one spot on my list. Plus, who doesn't love a guy willing to turn his man cave into an office for two?
Ryan is sweet, athletic, and has a heart of gold. He makes Beth, the heroine of the story, feel comfortable and wanted, even when she's new to town and going through a really tough time. Definitely brings the swoon factor.
I'm cheating a little because this was a TV show before a book, but I'm going to count it anyway! A broody millionaire with a sad past and a heart of naughty gold? Sign me up, please! Logan has that bad boy charm that makes me melt every time. He is loyal to a fault, and he has a tendency for throwing punches, but that can all be overlooked because, Logan, duh!
A soon-to-be priest getting all kinds of freaky? Where do I sign up for this? We get to learn more about him in his own book, A Little Too Much, but I was rooting for him the whole time in the first book of the series. He had a rough past, but more than makes up for it in his kindness and loyalty.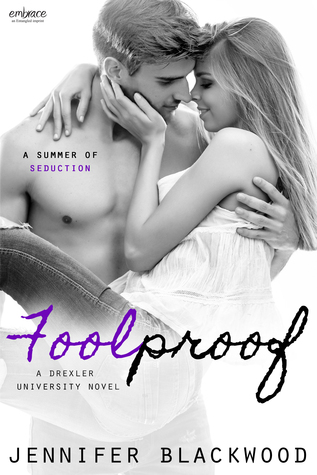 A summer of seduction...Jules Carmichael needs to get her life together. Pronto. School's been hell, there was that tiny stint in rehab, and worst of all, she's lost her cushy summer job. The only available work is at Office Jax, home of horrid 90s music and the biggest jerk on this side of the galaxy...




Recovering from a brutal break-up and taking a hiatus from college, Ryan DeShane has just discovered the "6 Ultimate Steps to the Perfect Summer Fling." It's a brilliant distraction, and Jules is a tantalizing target. But the "steps" work a little too well, because he and Jules are definitely, uh, flinging. And it's only a matter of time before Ryan's foolproof plan starts to seriously unravel...



Check out what's up for grabs.
Up For Grabs:
1

eBook copy of Foolproof + eBook of Choice from Hall Pass List
To Enter:
Please fill out the Rafflecopter form to enter giveaway.
**Don't forget to enter the grand prize giveaway!
Special thanks to Jennifer Blackwood for sponsoring this giveaway.
a Rafflecopter giveaway