New York Times and USA Today Bestselling author,
Sarah Castille
, writes contemporary erotic romance and romantic suspense featuring blazingly hot alpha males and the women who tame them. A recovering lawyer and caffeine addict, she worked and travelled abroad before trading in her briefcase and stilettos for a handful of magic beans and a home in shadow of the Rocky Mountains.
Hall Pass Heroes
1. Heroes who want it and want it now:
"No fucking about. I want inside you now. You fuck about, I swear to God..."
-
Jesse Ward
in Jodi Ellen Malpas',
This Man
.
"The longer it takes me to get between your thighs, the rougher I'm going to be when I finally get there. Understand?"
-
Derek
in Tessa Bailey's,
Protecting What's His
.
2. Heroes who know a woman's body better than she knows it herself:
3. Heroes who've got it where it counts:
"Marie: So why are you called Horse?
"Don't worry, I won't get it out. I don't want you all to get intimidated, and in the interest of health and safety, I think it's better that he's not unleashed."
–
Trey Coleman
in Suzanne Wright's,
Feral Sins
4. Heroes with a sweet side:
Ray groans. "It's been so long, and I want you so bad. I might be rough."
"I can handle rough."

"And I'm gonna be hard."

"I love it hard."

"And fast."

This time I laugh. "Not if I have anything to say about it."

Ray takes me in his arms. "I'm gonna give it to you sweet, beautiful girl. Soft and sweet."

–
Ray
in Sarah Castille's,
Full Contact
.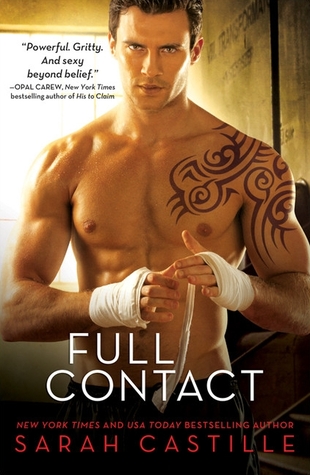 When you can't resist the one person who could destroy you…




Sia O'Donnell can't help but push the limits. She secretly attends every underground MMA fight featuring The Predator, the undisputed champion. When he stalks his prey in the ring, Sia is mesmerized. He is dominant and dangerous and every instinct tells her to run.




Every beautiful thing Ray "The Predator" touches he knows he'll eventually destroy. Soft, sweet and innocent, Sia is the light to Ray's darkness—and completely irresistible. From the moment he lays eyes on her, he knows he's going to have to put his dark past behind him to win her body and soul.



Check out what's up for grabs.
Up For Grabs:
1

Kindle copy of Full Contact + Protecting What's His
To Enter:
Please fill out the Rafflecopter form to enter giveaway.
**Don't forget to enter the grand prize giveaway!
Special thanks to Sarah Castille for sponsoring this giveaway.
a Rafflecopter giveaway