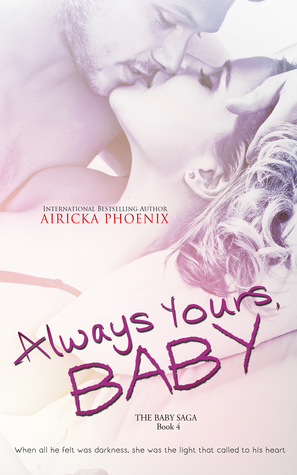 Always Yours, Baby is the forth Baby Saga book by Airicka Phoenix. Each book can be read as standalones though, with interconnected characters. This is my first Airicka Phoenix book, but I will look for more from her in the future and I can't wait to go back and read the previous books in this series.
Damon Comb and Willa McClain have loved each other since they were kids, and have always been the best of friends. Though they do everything together, they have never risked their friendship by telling each other how they really feel. Though everyone knows but them, they are scared that opening up will destroy everything between them. Just when it appears that everything might finally be going their way, Damon's past threatens to ruin everything they are building. Can he find a way to make it go away while protecting Willa, or will they be over before they ever get a chance?
I really liked these two. They were so sweet it might be a little sickening if they weren't so adorable together. These two were literally everything to one another, how they were so blind to the love they each felt was beyond me. Damon was sweet and kind, protective and caring. He was always looking out for Willa, and I loved how great he was with her. Willa was a bit on the fragile side and was prone to letting her emotions get the best of her. But with Damon there for her she seemed to draw strength from him. I loved how supportive these two were of each other, and I couldn't get enough of them together.
Overall, this was a good story. It was very sweet for the first two thirds of the story with the last bit being a little more action packed. Things started to happen with Damon's past suddenly changing things for everyone, and I felt bad for the characters. I loved how determined they each were to protect one another, and you could really feel the love between them. This was a good quick and easy read with characters that truly loved one another. There was no cheating or love triangles, and I found it really refreshing that there was no one but each other for Damon and Willa. I would recommend this book and look forward to more from Airicka Phoenix in the future.
**ARC Provided by Inkslinger PR**