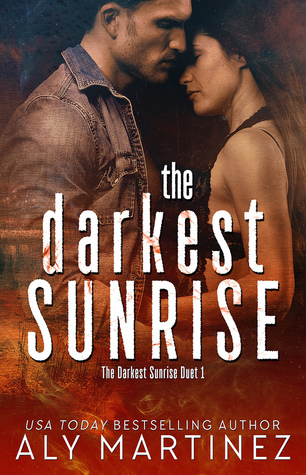 The Darkest Sunrise is the first book in Aly Martinez's new Duet and it was fantastic! Aly Martinez is an author that I have loved for awhile, yet she always blows me away with each new book she writes. Her books just seem to get better and better and that was definitely the case here. I couldn't put it down and I am anxious for The Brightest Sunset to see how everything plays out.
Porter and Charlotte have each known tragedy, but it isn't until they meet that they find themselves finally able to start moving forward with their lives. But as they find themselves climbing out of the darkness they have known, Charlotte's past comes back threatening to destroy everything that she was starting to overcome.
I felt for both Porter and Charlotte! Each of them had experienced so much pain and their grief had them living in darkness until each other. I wanted so much for them to find happiness, but I knew it wouldn't be an easy journey. Porter and Charlotte were real and their story felt so genuine. I felt like these weren't just characters that Aly had created but as though they could be anyone. There were easy to relate to and I felt invested in them right from the start.
Overall, I really don't want to go into details because this is a story that just needs to be experienced. Their story is just getting started and I can't wait for more. Aly Martinez captivates with her beautiful writing and I really can't recommend her stories enough. Her stories are passionate and emotional, leaving the reader with characters and a story that won't easily be forgotten. While she might break your heart a little along the way, she always puts it back together in the end and I trust her to be true to the characters every time. This was a great start to the series and I can't wait for the next one!
**ARC Provided by Inkslinger PR**