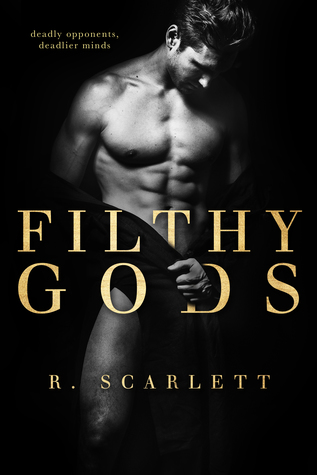 Let me just say that I was unsure but optimistic to start Filthy Gods by R. Scarlett. I wasn't sure what I was in for since R. Scarlett was a new to me author and this was a novella. I have a love/hate relationship with novellas, as they are never usually done with enough depth for me to feel satisfied with the story. R. Scarlett's Filthy Gods has made me a believer though! Not only is she an amazing author, but novellas can be done right! I loved this story so much and I honestly can't wait to read more from Scarlett!
Filthy Gods is a prequel standalone novella to her new American Gods series. We get to meet the characters of the future books here, but the focus of this story is Nathaniel and Juliette. They are classmates at Yale, but they come from very different backgrounds. He is from a rich and elite group of individuals while she grew up poor and was in and out of foster homes, a fact which none of her classmates know. They match each other intellectually though, and spend their time debating and arguing with one another. The passion they have also translates to the chemistry between them, and despite all their differences they both find themselves drawn to one another in a way that they know they shouldn't be. When Juliette goes to work for the summer at Nathaniel's mother's resort, she soon realizes that her secret is at risk of being discovered all while the attraction between her and Nathaniel becomes more than either of them can fight.
I absolutely loved Nathaniel and Juliette. These two were smart and passionate, and a match for each other on every level. I loved seeing them circle one another and it was really exciting as a reader to see the dynamics between them. They each had a lot of depth and emotion to them and that was so refreshing to see in a novella. I absolutely believed in the connection and natural progression of their story, and they were each genuine and felt real. I fell right along with them, and even though I wasn't ready for their story to be over, it was very well done and felt fully complete.
Overall, this was a great story. Sexy and emotional, full of ups and downs that kept me from being able to put my Kindle down. I loved Nathaniel and Juliette, and I loved Nathaniel's mysterious friends! I can't wait to continue this series and get to know the other American Gods better. They were very interesting here and I love this world that R. Scarlett has created. This was my first book from her, but I am a fan now and I can't wait to read more from her. I highly recommend this one, and I think readers are going to love this series just like I already do!
**ARC Provided by Social Butterfly PR**