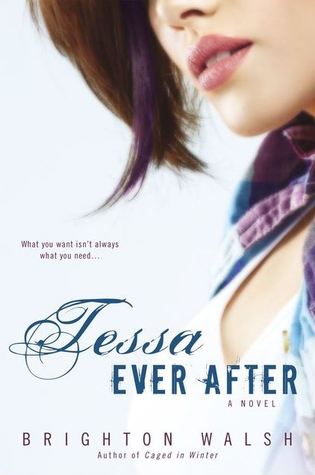 Tessa Ever After is the standalone sequel to Caged in Winter by Brighton Walsh. Though this book is a standalone, the characters are interconnected and I would recommend reading in order if possible. I have really enjoyed both books in the series, and I think that they are both definitely worth the read. If you are a New Adult fan, I would suggest giving these a shot.
Tessa has had to grow up quickly after losing her parents and becoming a mom as a teenager. When her brother moves away, she begins to realize just how much she was relying on him to help her with her daughter. She knows that she needs to find someone steady and stable for herself and Haley, but she finds herself bored with everyone she has met. While she might be bored with her dates, she finds herself increasingly drawn to her brother's best friend Jason. Jason is the last type of guy she should be thinking of though, as he is the typical playboy never looking for more than a single night. But Jason is also starting to see Tessa in a completely new way and he finds himself wanting to spend more and more time with Tessa and Haley. But is Jason ready for what it would mean to not only be in a relationship with Tessa, but to also have Haley as well.
I really liked these two together. They were really sweet with one another, and I loved that they had known each other for years. Jason was so great with Haley as well as Tessa, and I could not get over how adorable he was with Haley. He never had a problem with her and it was so cute how he would just jump right in with whatever she asked for. I liked that he was so upfront with Tessa, and it was really refreshing how he could just talk to her about everything going on in his life and between them. Tessa was great also, and I really enjoyed seeing her grow and change over the course of this book. She hadn't had it easy, and yet she was determined to make the best of her situation. Haley was always her priority and she was a great mom. She started off as thinking that she needed to be with someone older and more steady, but I was glad that she was able to see that she shouldn't settle for someone she wasn't happy with. Tessa and Jason had such a great connection, and it just continued to get stronger the more they got to know one another. They also had great chemistry and were pretty hot together. I loved seeing the three of them interact though, and it was really great to see them all having such a great time together.
Overall, this was a great sequel to Caged in Winter. I loved the characters and thought that the story was really good. This one was interesting, and I thought that Tessa and Jason were perfect for one another. Brighton's writing style is one that I really enjoy, and she draws you right into the story. If you are looking for a great romance story, this is definitely one you will want to check out. It was sweet and fun, and kept me turning the pages. I can't wait to read more from Brighton Walsh in the future.
**ARC Provided by Publisher**