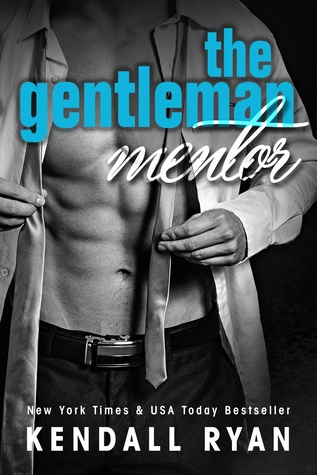 I feel like I need to just start off by saying that I loved this book! I started The Gentleman Mentor figuring I would read a few chapters then cook dinner and get some housework done before going back, but once I started I could not put this book down! Seriously this book was great and it sucked me right in! I have loved books by Kendall Ryan before, but The Gentleman Mentor might just be my favorite! I could not resist Hale and his dirty talking ways!
Tired of pining for her best friend Kirby, Brielle decides to contact the Gentleman Mentor. She found his ad online and he promises to help any woman become the sexy and confident woman they need to be to achieve whatever they go after in life. Upon meeting him, Brielle is nervous yet excited to start their six lessons together with her end goal to be the type of woman that Kirby can't resist. But the more that Brielle learns from Hale and the more that she experiences with him, she begins to wonder if any guy can compare to him. She finds herself forgetting Kirby altogether as she gets lost in Hale. But Hale has a past that he is trying to escape and he doesn't allow himself to get close to anyone as he doesn't do commitment. What he feels for Brielle threatens the life he has come to know though, and he finds himself wanting things he never has with a client before. But is he willing to risk everything for a chance with Brielle?
I loved these two together! The chemistry between them was instant and explosive. Hale and Brielle were the perfect match for one another, with Brielle being a little timid and shy and Hale being dominant and in control. What I loved about Hale was that while he exercised control in everything they did, he was exactly as advertised, a complete gentleman. He was sweet and kind, and very patient. I liked that he was so great with Brielle, while showing her what she deserved. He helped her to face and conquer her insecurities, and brought out a passion that she had never experienced before. Brielle was just as good for Hale, showing him that he was a great guy that deserved to have love in his life. She was into the real him, rather than the sexy dominant that knew his way around a woman's body. I loved that although they had lessons together, it was more than just a job/client situation. Right from the start things were different between these two, and it was clear to see that they clicked on every level.
Overall, I really loved this book and the characters. The story was captivating and I could not put it down. I had to keep turning the pages to get more of Brielle and Hale. This book was sexy and sweet, and I really enjoyed seeing these two interact from their very first email right up to the end. I will say I wasn't ready for this book to be over, but I thought that Kendall Ryan wrote a fantastic story. I just wasn't ready to say goodbye to these two and found myself greedy for more. I am very excited to see that she is writing a book for Hale's friend Reece, and I cannot wait to get my hands on The Dominant. If you are a Kendall Ryan fan, you are definitely going to want to pick this one up! If you haven't read any of Kendall's books yet, I highly recommend you start here! This book is one of my favorites, and I can't wait for more from Kendall Ryan in the future.
**ARC Provided by Inkslinger PR**