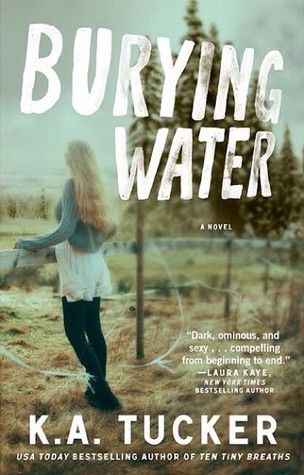 The top-selling, beloved indie author of Ten Tiny Breaths returns with a new romance about a young woman who loses her memory—and the man who knows that the only way to protect her is to stay away.

Left for dead in the fields of rural Oregon, a young woman defies all odds and survives—but she awakens with no idea who she is, or what happened to her. Refusing to answer to "Jane Doe" for another day, the woman renames herself "Water" for the tiny, hidden marking on her body—the only clue to her past. Taken in by old Ginny Fitzgerald, a crotchety but kind lady living on a nearby horse farm, Water slowly begins building a new life. But as she attempts to piece together the fleeting slivers of her memory, more questions emerge: Who is the next-door neighbor, quietly toiling under the hood of his Barracuda? Why won't Ginny let him step foot on her property? And why does Water feel she recognizes him?

Twenty-four-year-old Jesse Welles doesn't know how long it will be before Water gets her memory back. For her sake, Jesse hopes the answer is never. He knows that she'll stay so much safer—and happier—that way. And that's why, as hard as it is, he needs to keep his distance. Because getting too close could flood her with realities better left buried.

The trouble is, water always seems to find its way to the surface.

Purchase: | Amazon | Kindle | B&N | Kobo | iTunes |
Jane Doe
Now
Kind fingers probe something unseen on my scalp and then, with the sound of the door clicking shut, the doctor asks, "How about we start with the basic questions. Can you please give me your name?"
I open my mouth to answer. It's such a simple question. Everyone has a name. I have a name. And yet . . . "I don't . . . I don't know," I stammer. How do I not know what my name is? I'm sure it's the same name I've had all my life.
My life.
What do I remember about my life? Shouldn't something about it be registering?
A wave of panic surges through me and the EKG's telltale beep increases its cadence. Why can't I seem to recall a single scrap of my life?
Not a face, not a name, not a childhood pet.
Nothing.
Dr. Alwood stops what she's doing to meet my gaze. "You've had a significant head injury. Just try to relax." Her words come slow and steady. "I'll tell you what I know. Maybe that will jog your memory. Okay? Just take a few breaths first." She's quick to add, "Not too deep."
I do as instructed, watching my chest lift and fall beneath my blue-and-white checkered gown, cringing with a sharp twinge of pain on my right side with each inhale. Finally, that incessant beeping begins to slow.
I turn my attention back to her. Waiting.
"You were found in the parking lot of an abandoned building nine days ago," Dr. Alwood begins.
I've been here for nine days?
"You were brought into the emergency room by ambulance with extensive, life-threatening trauma to your body. Your injuries were consistent with a physical assault. You had several fractures—to your ribs, your left leg, your right arm, your skull. Your right lung collapsed. You required surgery for a hematoma, a ruptured spleen, and lacerations to . . ." Her calm voice drifts off into obscurity as she recites a laundry list of brutality that can't possibly have my name at the top of it. "It will take some time to recover from all of these injuries. Do you feel any tightness in your chest now, when you inhale?"
I swallow the rising lump in my throat, not sure how to answer. I'm certainly having difficulty breathing, but I think it has more to do with panic than anything else.
"No," I finally offer. "I think I'm okay."
"Good." She gingerly peels back pieces of gauze from my face—some over the bridge of my nose and another piece running along the right side of my face, from my temple all the way down to my chin. By the slight nod of approval, I'm guessing she's happy with whatever is beneath. "And how is the air flow through your nose? Any stuffiness?"
I test my nostrils out. "A little."
She stops her inspection to scribble something on the chart that's sitting on the side table. "You were very fortunate that Dr. Gonzalez was in Bend on a ski trip. He's one of the leading plastic surgeons in the country and a very good friend of mine. When I saw you come in, I called him right away. He offered us his skill, pro bono."
A part of me knows that I should be concerned that I needed a plastic surgeon for my face, and yet I'm more concerned with the fact that I can't even imagine what that face looks like.
Born in small-town Ontario, Kathleen published her first book at the age of six with the help of her elementary school librarian and a box of crayons. She is a voracious reader and the farthest thing from a genre-snob, loving everything from High Fantasy to Chick Lit. Kathleen currently resides in a quaint small town outside of Toronto with her husband, two beautiful girls, and an exhausting brood of four-legged creatures.
Find Kathleen at:
Check out what's up for grabs.
Up For Grabs:
5 Signed copies of Burying Water
To Enter:
Please fill out the Rafflecopter form.
Special thanks to K.A. Tucker & InkSlinger PR sponsoring this tour-wide giveaway.
a Rafflecopter giveaway