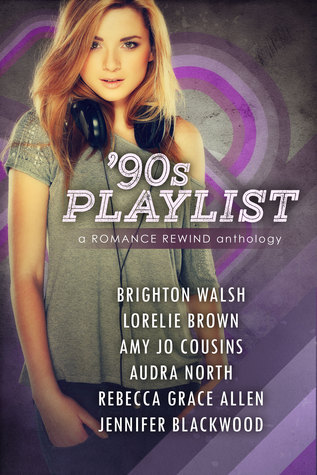 I'm not too big on anthologies because of the length of the stories. I really wanted to give this one a shot though after reading which authors were a part of this one though. I have to say that these felt even shorter than most stories in anthologies though since there were six here. I really loved the '90s concept though, as I am a huge fan of all things '90s. It was great to see some things here that I hadn't thought about in forever, and I really enjoyed seeing all the different music referenced here. I will admit that I definitely had to listen to some of them as I read these.
My Strongest Weakness-Brighton Walsh
Mason is the typical All-American Jock and Tia is his exact opposite, the goth girl. Yet despite their differences, they find themselves drawn together in a way they aren't with anyone else. They live by a set of rules to keep others from finding out what is going on between them, but before long real feelings are starting to develop and Tia wants more. But is Mason willing to risk everything by letting others see how he really feels about her?
I really liked this short story from Brighton Walsh. I always enjoy her books, and she proved to me what a talented writer she was here with this one being so quick of a read. I was really surprised with the amount of depth and feeling she was able to show here between Mason and Tia, and I really felt like these two were it for each other. They were really sexy together, and I liked seeing them get to know one another better too. My only complaint here is that even though this was really great for being so short, I would have loved more. This opposites attract story was romantic and emotional, and I enjoyed it a lot.
Creep-Lorelie Brown
Roni and Tom meet when Tom shows up at the shop where Roni works looking for his brother Corey. Roni knows Corey as her drug dealer Skittles, and is reluctant to give information to Tom. She is attracted to Tom though, and gives him some information on where he might run into Corey/Skittles. The attraction between Roni and Tom is instant, and she finds herself drawn to him.
This one was flat out confusing, and it didn't really go anywhere or explain anything. It made no sense to me and ended right where the story seemed to start. I have no idea if this story is continued anywhere by Lorelie Brown, or if this is all there is. The whole thing with Roni and Tom didn't work for me, and I didn't feel like they had any connection at all. It was too instant, and honestly just seemed out of nowhere. The situation with Tom and Corey/Skittles was never briefly and partially explained, but it was never resolved. If this one hadn't been so short, I would have ended up not finishing. I also hated how casual the use of drugs was here, and the fact that pretty much everyone seemed to be okay with it. This one was a miss for me.
The Belle vs. The BDOC-Amy Jo Cousins
Shelby wants Florence, but Florence is convinced that Shelby is straight. So Shelby sets out to make Florence notice her and finally realize that she is also a lesbian. But what starts out as Shelby putting together a team to beat Florence on trivia night quickly escalates, and soon Shelby and Florence are not only competing at trivia. But can Shelby show Florence that she wants more than to just beat her?
This was one that I just couldn't connect with at all. I don't read a lot of F/F stories, but I don't have anything against them. For me though, I wasn't really feeling the connection between Florence and Shelby here. Florence was super judgmental, and flat out awful to Shelby at times. I didn't understand why Shelby would continue to want her after everything. I just didn't really care for the characters or the story here, and this was another case of it being just short enough that I was able to finish.
Worthwhile-Audra North
Just as Jill begins a semester abroad, the boyfriend she traveled there for dumps her. Two weeks into her semester and she is ready to return home, but she stumbles into the arms of sexy Stuart. As Jill and Stuart get to know one another, sparks begin to fly and soon Jill is glad that she decided to stay. But is Jill ready to move on with Stuart, or is she still hung up on her recent ex?
I really liked Jill and Stuart. They were great together, and Stuart was such a good guy. This story was short, but really sweet and I enjoyed it a lot. Stuart and Jill's connection was quick, but it felt very real and believable to me. I loved how cute they were together, and this was definitely one of my favorites of the entire anthology. I would have loved for these two to have been given a full story though, as I was really curious to see where things would go from here for them. I also found myself wishing that we had been given Stuart's POV, as I would have loved to have seen what was going on in his head.
Smells Like Teen Spirit-Rebecca Grace Allen
Rory is working a dead end job in the town where she graduated college. One night she meets James, a sexy singer about to graduate from the same college she went to. They instantly hit it off, but Rory is scared to allow herself to feel anything for him after all that she has been through with her parents. She has always felt lonely and abandoned, but James makes her want more. Can Rory and James have something together or will it be over before it ever really begins?
I liked James and Rory. These two were super hot together, and the chemistry between them was explosive. I thought that they also had a great connection though, and I enjoyed seeing them get to know one another. Rory loved poetry and James loved music, and they seemed to always be able to relate to one another and discuss their passions. James and Rory's connection felt real to me, but it was a bit rushed. I did feel as though these two were meant for each other though, and I would have liked to have seen a bit more down the road for them after where things left off here.
Little Red Thong-Jennifer Blackwood
As Emily, her brother Drew, her best friend and her brother's best friend Chase set out on a spring break cruise, they each set out to win a game of spring break bingo. There are several things that they must each accomplish in order to win, but with each of them being competitive they will do whatever it takes to win. Chase has always liked Emily, but he knows that he needs to stay away from her as the sister of his best friend. Emily finds herself drawn to Chase though, and is interested to see where things could go between them. But will Chase risk his friendship with Drew in order to see what he could finally have with Emily?
I love stories about heroines falling for their brother's best friend, so I couldn't wait to read this one. It was really good, and I liked the characters a lot. I loved that Chase had grown up with Emily and Drew, so they had a lot of history together. That made this super short story about them seem real and believable to me in a way that it might not have been had they just met. Because they already had a connection, it didn't feel rushed. Chase and Emily were cute together and they had a lot of chemistry. My only complaint here is the same as most of the stories in this anthology, in that I wanted more. I would have loved to have seen what happened after the cruise was over and they returned to their lives at home. I didn't doubt that they could handle the distance, yet it would have been nice to see.
Overall
Overall, this was a good anthology and I really enjoyed four of the six stories here. I wish that those had been longer though, and that was my biggest complaint for them. There were two of the stories here that just didn't do it for me though, and I probably wouldn't have finished those if it wasn't for how short they were. I would still recommend this anthology for the other stories though, and I will definitely be checking out other works by those authors.
**ARC Provided by Xpresso Book Tours**