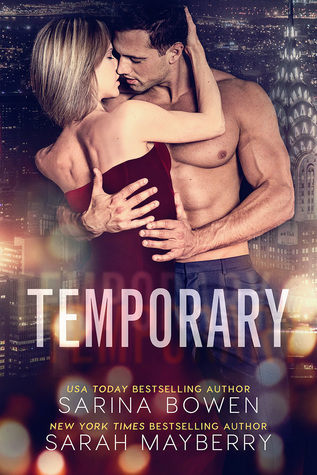 I am a huge fan of Sarina Bowen, both on her own and her co-written books with Elle Kennedy. That being said, I have never read anything by Sarah Mayberry, so I was excited to see what her and Sarina's style would be like together with Temporary. While I liked this book, I didn't love it and I ended up feeling as though it lacked the spark that I am used to with anything having Sarina Bowen's name attached to it.
Grace works hard to support her sister since their mother is unable to, so when she lands a job helping to inventory an estate of a man from a rich and powerful family. What she never expects though is the attraction and connection she feels for Callan Walker, the man's nephew who wants her help in keeping his mother far away from everything to do with his uncle's estate. She knows that once everything is settled though that he will be back on his way home to Australia, and with her sister to think about, can she really afford the risk for something temporary?
I liked both Callan and Grace. I didn't really feel connected to them though. Things just felt surface deep here and I wasn't really invested in their story or relationship. They were attracted to one another and their connection seemed genuine, but there just wasn't anything that stood out as special to me and I pretty much forgot about them as soon as I set this one down.
Overall, this was a good quick read but in the end it was just okay for me. Things were definitely set up here for Callan's sister to get her own story, and I would be interested to read it and get to know her better. While I wasn't her biggest fan, she seemed to be on the right track at the end of this book. I just wish that I had been able to connect more with the characters here and that it hadn't felt like something was missing. While I do think that it was just okay, I think if you are looking for something quick and light to read you might give this one a shot. It was still good, just not great like I have come to expect from Sarina Bowen. I am hoping that if these two authors continue to write together that they will find their groove.
**ARC Provided by Bocci PR**