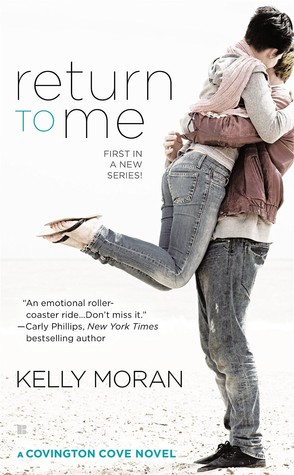 Return to Me is first book in Kelly Moran's new Covington Cove series. I knew I had to read this one after learning that this was a second chance at love for a military hero. I thought that this book was really great, and Kelly Moran did a beautiful job of handling some difficult issues. This story was real and believable, and I was invested in these characters right away.
Ten years ago, Cole Covington changed not only his life but also that of Mia Galdon forever. He broke her heart, shattering his own in the process. Cole and Mia haven't spoken since the night it all fell apart, and Mia has done her best to move on since then. But when she gets a call from Cole's sister Lacey asking for her help, she knows this is her chance to get closure. Not only is Mia now a nurse, but Lacey knows that she is the only one who can help her brother after he returned home emotionally and physically damaged. At first Cole fights against having Mia around, not wanting her to see him as he is. But soon, they are both drawn back in to the connection they once shared all those years ago. But can they possibly find a way to have a future together with so many obstacles still in their way?
I really liked Mia and Cole. It was very clear that love was never the problem for these two. They had such a strong connection that was pure and undeniable. It was other people and their circumstances that had kept them from being together. My heart broke for all that these two had been through, and it was clear that Cole was willing to do whatever it took to protect Mia. I loved how caring he was and that he had never been able to move on from her. Mia was strong and loyal, and was so genuinely good at heart. She looked out for her sister, and would have done anything for her. She also was quick to help Lacey with Cole, even though she would have had every right to stay away. She was just so kind and caring, and I liked that she never gave up on Cole. She didn't let him get away with anything, and she pushed him to get better. These two had a connection and chemistry, but what was so special about them was that time and distance hadn't dimmed any of it.
Overall, I really enjoyed this story. I thought that Kelly Moran was very respectful to the difficulties that veterans and their loved ones go through when they return from overseas. She showed just how difficult it can be for them to adjust to normal day to day life, and I was so glad to see that Mia was able to get through to Cole by encouraging him and always giving him the support he needed. She took his fears and insecurities and was able to reassure him that he was still a great guy and that he was able to recover without being weak. These two had so far to come from their past, and I was glad that I got to read their journey back to one another. I liked the secondary characters with the exception of Cole's mom, that woman was truly awful and deserved every bit of karma that could possibly head her way. Besides her though, I really liked Lacey and how much she cared about not only her brother but also Mia. I am really looking forward to reading more books in this series, and I highly recommend this one if you are looking for a great contemporary read.
**ARC Provided by Penguin Group Berkley**