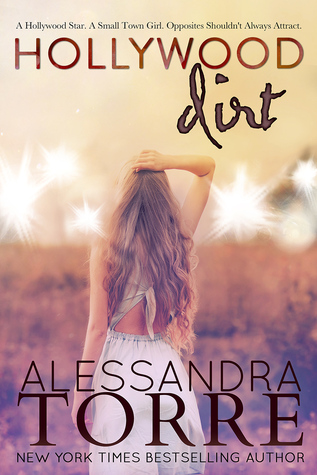 Hollywood Dirt is a standalone contemporary novel from Alessandra Torre. Fans of Torre will recognize a few familiar faces here though, and I loved how effortlessly she worked that in! I will mention that fans of Torre should know that this book has a different feel than previous books I have read from her. I really enjoyed the story, but readers should know that this is unlike anything I have read from her before. Hollywood Dirt was entertaining and well written, and Torre has once again shown just how talented she is.
All Summer Jenkins wants it to get out of Quincy, Georgia. So when word gets out that Hollywood's hottest star is bringing a movie to Quincy, she views it as her perfect chance to earn some money and finally make her escape. Her first interaction with Cole Masten goes horrible, and they immediately get off on the wrong foot. They are from different worlds and have absolutely nothing in common. But being forced to work together also forces them to face the attraction that is between them, even if they don't like each other much.
Summer was feisty and fun, and I loved her right from the start. She was a Southern lady always looking to do things the way she had been raised, yet she was also her own person and had no problem saying what was on her mind. I loved that she didn't get caught up in the Hollywood lifestyle or view Cole as anything different than just a normal person. She treated him the same as everyone else and that was something he wasn't used to. I was a bit slow to warm up to Cole, but he did win me over. His whole life had been turned upside down, and it was understandable that he wouldn't always handle things the best. These two had such strong chemistry though right from the start, and I really enjoyed seeing how their relationship grew and evolved over the course of this book. They didn't like each other at all to begin with, but the sparks between them were undeniable and it was only a matter of time before they were bound to explode.
I will say that there was a slow build up here, and it took quite awhile for these two to really come to terms with the connection between them. I would have liked to have seen that happen earlier, as I did start to feel like things were a bit drawn out here. It made the book seem a bit long and slow to me, which had my interest wavering in a few places. I think that fans of Alessandra Torre will enjoy this book though, and I thought it was a really good story. This one was different than her other books, yet it was everything that I have come to know and love when it comes to her stories. Alessandra Torre is one of my favorite authors, and I always know that I am going to enjoy anything attached to her name. Hollywood Dirt was no exception, and I would recommend it if you are looking for a great contemporary romance. This book was filled with Southern charm and strong characters, and I think readers will really enjoy the story of Cole Masten and Summer Jenkins.
**ARC Provided by Author**