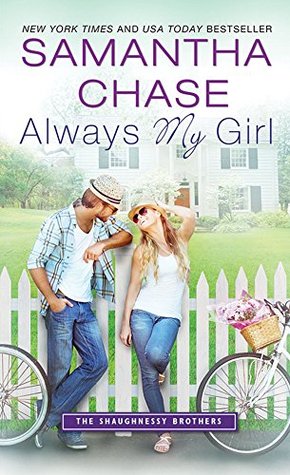 Sometimes the love that's closest to you is the hardest to see.




Quinn Shaughnessy's two older brothers have found their true loves … but Quinn's not about to join that parade. Nope, as he tells his best friend Anna, there's a lot more to life than getting tied down to one person. He's positive tomboy Anna will be on his side — except she's inexplicably developing other interests — even dating! Suddenly Quinn is seeing Anna in a very different light.




Quinn has been Anna's buddy since they were both five years old. She can tell him anything — except the one big secret she's been hiding for years — that she's fallen in love with him. Now Anna is determined to make a life for herself that doesn't include pining for Quinn. Falling in love with your best friend? Easy. Telling them how you really feel? Impossible.




Samantha Chase released her debut novel, Jordan's Return, in November 2011. Since then, she has published seventeen more titles and has become a New York Times and USA Today bestselling author. She lives with her husband of twenty-four years and their two sons in Wake Forest, North Carolina.






Clearly Anna was a glutton for punishment. She had just finished showing a house and was on her way home. This particular route took her past Quinn's shop. She hadn't seen or talked to him since the wedding and…well…she missed him. It wasn't unusual for them to go for a week without seeing or talking to one another, but right now she just really wanted to see him.
Pulling into the parking lot, she noticed Aidan's car and smiled. It was on her mind to give Zoe a call and now she knew for certain they were back from their honeymoon.
Waving to one of the mechanics, she was immediately told—without asking—that Quinn was over in the restoration building. It was separate from the main shop, out back with its own office and setup. She knew why Quinn set it up that way, and she was excited because if he was back there, it meant he had some new cars to restore. She almost got giddy at the thought of what kind they were.
Letting herself in, she immediately heard the loud male laughter and knew both Quinn and Aidan were there. A minute later, she heard a voice she'd never heard before. As she stepped into the bay area, Aidan spotted her first.
"Anna!" He walked toward her, his arms open wide. "How are you?" He hugged her and kissed her on the cheek. "Have you spoken to Zoe yet? I know she was dying to tell you all about the trip."
She hugged him back. "As soon as I saw your car, I made a mental note to give her a call when I got home." She stepped back and smiled. "Was it wonderful?"
His grin was the only answer she needed.
"So what brings you here?" he asked.
"I was driving by and thought I'd stop in and say hello." Aidan was looking at her a little funny until Anna started to squirm. "What? What's wrong?" She looked down at her outfit and wondered if she'd spilled something on herself.
"I still can't get used to seeing you in career-girl mode. I miss the girl in the blue jeans who makes the world's greatest burgers."
Anna blushed. "I'm still the same girl, Aidan," she said shyly. "But sometimes a girl has to grow up." She was saved from saying anything else when Quinn walked over with a guy she didn't recognize.
"Hey, Anna," Quinn said with a smile that didn't quite reach his eyes.
"Hey," she said, forcing her own smile while checking out the attractive guy standing beside her. Without waiting for an introduction, she held her hand out. "Hi, I'm Anna. I'm a friend of Aidan and Quinn's."
Mr. Tall, Dark, and Muscular gave her a sexy smile and took her hand in his. "Nice to meet you. I'm Jake. Also a friend of Quinn's."
"Really?" she said, her smile growing until her cheeks hurt. "Then how come we haven't met before?"
Jake stepped in closer, shouldering Quinn out of the way. "I have no idea. I used to race cars with Quinn. We met on the circuit." He still hadn't let go of her hand. "Do you follow racing, Anna?"
For a minute she almost wanted to pinch herself. Here was an incredibly attractive man—almost too good-looking for his own good—practically flirting with her, and she hadn't had to lift a finger. Aidan was grinning and Quinn looked ready to spit nails. It was almost as if she had scripted the moment herself!
"Oh, I follow all kinds of sports, Jake." She quickly wracked her brain for racing stats until she remembered something about Jake's. "You used to drive a Chevy, right? Number thirty-four?"
His smile grew and his grip on her hand tightened before his thumb began to stroke her wrist. "That's right, darlin'," he drawled. "I had a lot of good luck with that car." Then he leaned in close. "And in Quinn's last season, I beat him by twenty points."
"It was two, Jake," Quinn interrupted. "Two. Not twenty. Every time you tell that story, you embellish."
Jake stepped back and finally released Anna's hand. "So what is a lovely woman like you doing in a dirty garage like this?" he asked.
Before she could answer, Quinn spoke. "Dude, what the hell? It's a brand-new shop and it's just Anna. She's been in my shops before."
Anna shot him an annoyed look. "Oh, I don't mind coming to the shop. It's not a big deal. A little engine grease and some exhaust fumes don't bother me. I actually do some work on my own car."
"Since when?" Quinn demanded.
She ignored him and focused on Jake. "Of course I don't drive anything like these cars." Looking over at the classic cars, she sighed. "Those are real beauties. Whoever owns them is really lucky."
Quinn groaned, Aidan chuckled, and Jake stepped forward and wrapped his arm around Anna's shoulders. "It just so happens I own them."
"No!" she cried.
He nodded. "I sure do." Then he led her over to them, leaving Quinn and Aidan behind.
It took a full minute before Quinn could find his voice. "What the hell just happened here?"
Aidan was practically wiping tears from his eyes from the laughter. "I think your friend just swooped in here and swept Anna off her feet."
"No," Quinn said firmly, defiantly. "No way. Anna doesn't go for that type."
"What? The tall, dark, good-looking, and successful type?" Aidan teased.
Quinn glared at him. "Are we talking her type or yours?" He shook his head with disgust. "Anna is not impressed with that kind of stuff. She's been around drivers before and it never made a difference."
"I'm sure there's a big difference between the way they treat someone they meet while on the track and off." He nodded in Jake and Anna's direction. "There's no distractions here, and if you ask me, she definitely seemed…impressed."
He shook his head. "Uh-uh. No way. She's just being nice. There's no way Anna would go out with a guy like Jake."
"How much you wanna bet?"
Just then, Anna let out a very feminine giggle that echoed off the shop's walls. And suddenly, Quinn wasn't so sure about anything.
Up For Grabs:
5 Print copies of Love Walks In
To Enter:
Please fill out the Rafflecopter form.
Special thanks to Sourcebooks for sponsoring this giveaway.
a Rafflecopter giveaway