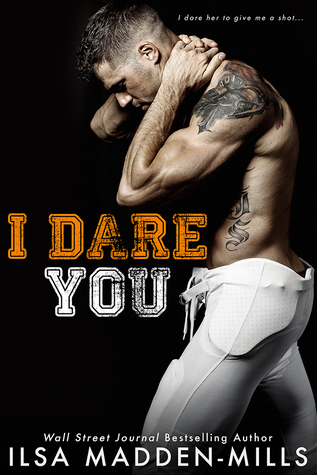 I Dare You is the first book in the Hook Up Series by Ilsa Madden-Mills, and I loved it! This was a great start to the series and honestly just might be my favorite book from Ilsa yet. I read it in one sitting and really enjoyed it from start to finish. This book was sweet and sexy and I couldn't get enough of how funny and cute it was.
At first glance Delaney and Maverick have nothing in common. She is a nerdy good girl and he is a popular football player that all the girls want. But the two share a kiss their freshman year before going their separate ways. Now a few years later, Delaney has sworn off athletes after her boyfriend cheated on her, but when a late night text on a lonely Valentine's Day comes in, she finds herself drawn in. Though she doesn't know who "badass athlete" is, he knows her, and he is determined to do whatever it takes to win her over. When the truth comes out and secrets are revealed, will it destroy any chance they have of something together?
I loved both Delaney and Maverick. I loved that they were unique and weren't your cookie cutter NA characters. They were likable and fun and easy to relate to and root for. You couldn't help be drawn in by them, and I was hooked from the very first page. Delaney was nerdy and fun, sweet and perfect for Mav. He was sexy and sweet, and I loved his determination and loyalty. He was so caring and would do anything for those he loved, there was so much to him and I was glad that we got to see his different layers. I really thought that these two were perfect for one another and they just worked, even if you wouldn't imagine it at first glance.
This book was a lot of fun to read and I found myself not wanting to put it down. I loved the secondary characters as much as Delaney and Mav, and I am really looking forward to reading more in this series. It has been a long time since I have read and loved a New Adult story as much as this one, but it was such a great story and I think it will be one many readers love like I did. Sweet, Sexy, funny and heartfelt, this book had it all! A must read for fans of Ilsa Madden-Mills and fans of sports romance/NA stories.
**ARC Provided by Enticing Journey Book Promotions**