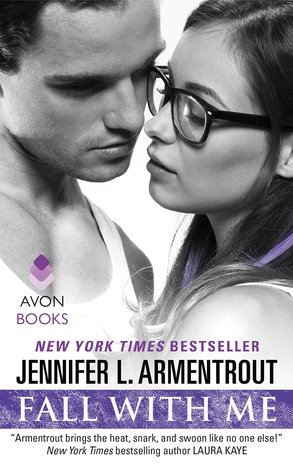 Fall with Me is book four in the Wait for Me series by Jennifer L. Armentrout (J.Lynn). Each book in this series can be read as a standalone, but I would recommend reading these in order if you can. Not only are they great stories, but you get to see how each of the couples gets together without things being spoiled by skipping their books. I have to admit that I was a little scared to read this book. Stay with Me wasn't my favorite in this series, and I was really hoping that it was just a fluke with that book. While I did like Fall with Me better, I do have to say that I still had some issues with this book.
Roxy and Reece grew up next door to one another, and Roxy has been in love with Reece since she was fifteen. Nothing had ever happened between them though until eleven months ago. Since then they hardly speak to one another and Roxy tries to avoid him at all costs. When Roxy starts having weird things happen to her, she thinks that the person responsible is the same person that forever changed the life of her best friend Charlie. But when Reece gets involved in the case, he isn't convinced it is the same person. In order to keep Roxy safe, Reece convinces Roxy to stay at his place. But can Reece get to the bottom of what is happening before it's too late? And can he and Roxy put the past behind them and have a chance at something together?
I liked Roxy and Reece together. These two had a lot of chemistry, and I liked that they also had a history of friendship. Though they had messed things up eleven months ago, before that they had always been close. I liked that Reece was such a straight forward guy. He didn't play games and he was always looking out for Roxy, even when they had their issues. He was alpha without being a total jerk, and I liked that he was a bit cocky but still easy to relate to. Roxy was a bit different for me. I liked things about her, but there were also things about her that drove me nuts. I loved her loyalty and how committed to her friendships she was. She never gave up on her best friend Charlie, and she always tried to do right by him and put on a brave face for him even when it was hard for her. But then at times she really annoyed me by doing absolutely stupid things. I also felt like she was almost completely to blame for the situation with Reece. While I understand why she felt some of what she did, I felt like she should have just been honest with him and talked things out. These two could have easily cleared up so much of their problem by having a single conversation. I hate misunderstandings like the one they had, especially when they were both suffering because of it. These two liked one another and yet they couldn't even talk to each other. It just felt crazy when they had enough drama elsewhere.
I have to say that while I liked this book better than Stay with Me, I still wasn't entirely invested in the story. I think these last few books have just been missing what I had loved so much about Jase and Cam's stories. Those books were so fantastic, and I loved every bit of them. They were emotional and sweet, and yet were funny and entertaining. I think part of my issues with these last two books is the fact that this series has taken a turn into a different genre, and they are a little bit more of a suspense read than what I would consider a NA read. I'm just not feeling the suspense aspect, and I think that the relationship and romance is getting a bit lost in these books. These last two books just don't have the same feel as the first few books did, and I think that I had been expecting them to be similar to those. While I love JLA's writing style and how unique her characters and stories are, this book just wasn't all that I had been hoping for. I had a tough time rating this one because of my mixed feelings, and I would say that this is somewhere between a 3 and 4 star read for me. I know that I will read more from JLA in the future, I think I just need to accept that this series has taken a different direction and stop expecting it to be like the first few books were. It was nice to see familiar faces though, and am always really glad when we are given glimpses into the HEA's of previous characters.
**ARC Provided by Inkslinger PR**