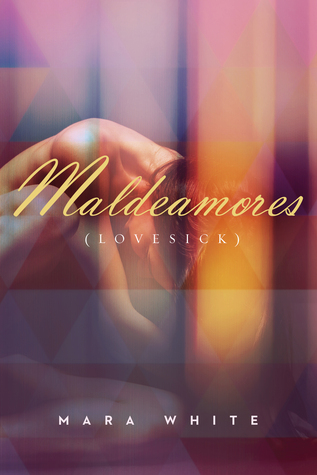 Maldeamores is the first book that I have ever read by Mara White. It is a standalone prequel to her Heightsbound series, and you do not need to have read the other books to understand this one. I have to admit that I am a sucker for taboo love stories. There is just something about the forbidden that makes romance books more juicy sometimes. So when I read the blurb for this book, I knew I had to read it. Let me warn you though, this book will not be for everyone. This book is about cousins who fall in love with each other. I won't give away much of the actual story so as not to spoil the book, but I think that this is one of those books that just needs to be experienced without knowing everything ahead of time.
Belen and Luciano have loved each other since they were kids. They have always been inseparable, and they have only grown closer over the years. However their friendship has always felt like more to each of them, except they know that they shouldn't feel the way they do. Being cousins, they do everything that they can to fight what they know is wrong and yet you can't control who you fall in love with.
I will say that I had a few issues with these characters. They were in a really tough situation, and I understand that they each must have been so confused and that they would struggle with their feelings. That being said, Belen got on my nerves a bit with her constant crying. Yes things were upsetting, but after awhile I began to wonder if she was capable of doing anything besides crying. Luciano ran a bit hot and cold, and it was easy to see why Belen would be confused. I liked Lucky though, and I really felt as though these two genuinely belonged together. I know that for a lot of people incest is a hard limit, and that might make reading this one difficult. But these two seemed to really be two people who loved each other and were perfect for one another that just so happened to be related. They were so close, and it was that way from the very start. They had clear chemistry and an undeniable connection.
So without getting into the story too much, I loved about 90% of this book. Then the ending happened, and it pretty much wrecked me. This was not the way I had hoped for, and honestly it was very unsatisfying for me. I really had to take some time to get my thoughts together on this book before sitting down to write my review, because I felt pretty betrayed at the end of this book. But as I continued to think about Maldeamores, I thought about the book as a whole and I couldn't put it down. If it wasn't for the ending, I really think this would have been close to a five star read for me. So I decided to go with a 3 star rating since I did enjoy this book up until the end. This one was beautiful and heartbreaking, and filled with emotion and angst. I was drawn in right from the start and absolutely couldn't stop myself from finishing this book. I read it almost in one sitting, and would have finished it in one if real life hadn't demanded my attention. While I was unhappy with the ending, I can't deny that I loved Mara White's writing style, and I was captivated from the first page. I am really hoping that we end up getting more for Lucky and Belen. I would love to see something else down the line for these characters, and I hope that it might change how I felt at the end of this book.
**ARC Provided by Flirty Subs PR**