When not attached to her laptop, USA Today Bestselling Author
Robin Bielman
can almost always be found with her nose in a book. A California girl, the beach is her favorite place for fun and inspiration. Her fondness for swoon-worthy heroes who flirt and stumble upon the girl they can't live without jumpstarts all of her story ideas.
She is a 2014 RITA® Finalist, loves to frequent coffee shops, and plays a mean game of sock tug of war with her cute, but a little bit naughty dog, Harry. She cherishes her family and friends and loves to connect with readers. Get the scoop on Robin, her books, and sign up for her newsletter on her website at
robinbielman.com
.
Top Ten Favorite Things About Summer
Hi RFTC readers! I'm so happy to be here to celebrate summertime and books—two of my favorite things. And the surf and sand? My favorite place to be! Thanks so much for having me today, Dani, and for hosting this EP event.
This week is an especially happy one for me: my tenth book released on Tuesday. So to honor that number, I thought I'd do my Top Ten Favorite Things About Summer.
1) Ice cream. Yes, you can eat this any time of year, but I'm one of those people who is always cold, so I love when it's hot outside and I can have some mocha chip without shivering.
2) Sleeping in. Since I don't have to worry about getting my youngest up for school, I can sleep a little later. For a night owl like me, this is a good thing.
3) Summer movies. I can't wait to see Jurassic World, Mission Impossible, The Fantastic Four, and if I must, Magic Mike XXL. ;)
4) Strawberries. I love them and they are especially yummy in California in the summer.
5) Days at the beach. I'm fortunate that I get to spend lots of days at the beach all through the year, but they are especially nice on warm summer days spent with my hubby.
6) Lazy days with my family. Sometimes the best days are when we do nothing.
7) Baseball games. A night with the Dodgers or Angels, eating hot dogs, doing the wave, and standing for the seventh inning stretch is always a perfect summer night.
8) Outdoors eating. Sitting outside in the fresh warm air for breakfast, lunch or dinner is one of my favorite things. (As is eating. But that's a 365 days a year occurrence.)
9) The Surf Rodeo. This is one of my favorite July activities. It's an amateur surf competition where the contestants wear different bright-colored cowboy hats out in the water. There's food and music and last summer there was even a surfing dog!
10) Beach reads. One of my all-time favorite summer reads is Jenny Han's Summer Series. Oh, how I love those books. Another one that has stuck with me: The Summer of Skinny Dipping by Amanda Howells. This book made me cry like I've never cried before while reading a book. And more recently I really loved Pocketful of Sand by M. Leighton. Right this moment, though, my favorite summer read is BLAME IT ON THE KISS.
What is your favorite thing about summer and what book(s) are you most excited to read in the coming months? Let's dish in the comments!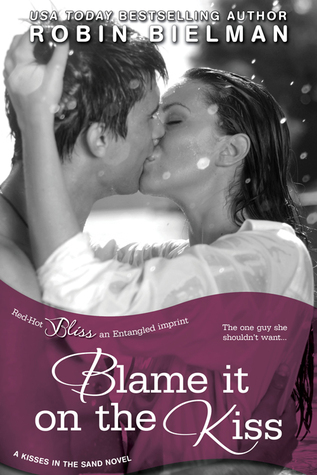 The one guy she shouldn't want...




Honor Mitchell has lived with guilt and regret for a long time, so when she promises to do the things on her dying best friend's wish list, she's determined to follow through and do something right for a change. But when she's thrown together for wedding duties with the one man who complicates her vow--just by looking at him--she has to put her faith in Bryce Bishop's pledge to help her, no strings attached.




Bryce's near one-night stand with his ex-girlfriend's best friend a few months ago might have been a mistake, but helping the beautiful, free-spirited Honor with her promise isn't. His trust in women is shot, but he can't help but play his best man card to his advantage and help Honor tick off the items on his ex's list, even if it puts him in a no-win situation. Because his assistance might get Honor what she wants, but suddenly being the do-good guy puts his plans--and heart--in serious jeopardy.


Purchase: | Amazon | B&N | iBooks | Entangled Publishing |
Check out what's up for grabs.
Up For Grabs:
1

$5 Gift Card (Amazon or B&N)
To Enter:
What is your favorite thing about summer and what book(s) are you most excited to read in the coming months?
Please fill out the Rafflecopter form to enter giveaway.
**Don't forget to enter the grand prize giveaway!
Special thanks to Robin Bielman for sponsoring this giveaway.
a Rafflecopter giveaway