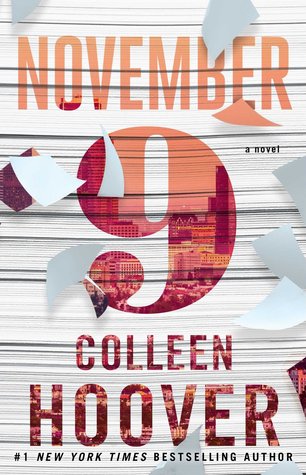 I will admit that I was a bit scared to start November 9 when I received it. While I love Colleen Hoover and have enjoyed her books, the last few of hers weren't my favorites. I had issues with each of them and while there were great moments in them, I began to worry that maybe it was just me since so many others loved them and raved about them. My favorite Colleen Hoover book to this point has been Maybe Someday (even though there was something I took issue with there as well), but I have to say that after just having finished November 9, it has definitely taken over as my favorite. This book absolutely wrecked me in true Colleen fashion, but thankfully she put me back together piece by piece and I fell in love with Fallon and Ben right along with them.
On the day she is set to move to NY from LA, Fallon meets aspiring writer Ben. They spend that November 9th together and agree spend each November 9th together from that day forward, though they will continue to live their lives separately. Though each year they meet on November 9th, they have absolutely no contact for the rest of the year. Their agreement and lives are supposed to be the inspiration behind the novel that Ben promises to write but just when it appears to be so much more, Fallon discovers that Ben has been keeping some very big secrets and their entire relationship might have been a lie.
Ben and Fallon had me from their very first meeting and I was completely hooked. I couldn't put this book down, and I loved how fun and witty they were. Their interactions were the kind you live for in a great book, and they were impossible not to fall for. Ben and Fallon were great as individuals and I really loved them, but together they were magic. Sweet and Sexy, these two had every single thing that makes for a great couple and they are the kind of couple romance books are made of. They each had struggles and so much to overcome, but the great thing is that they were there for each other even when they weren't together. These two had so much chemistry that I really couldn't think of any two characters who were more perfect for each other than Ben and Fallon were. They might have not spent much actual time together, but it was so real and genuine and believable despite the circumstances.
Overall, this is my favorite CoHo book to date and I honestly cannot recommend it enough. This book is so beautiful and emotional, and I could not put it down. I never wanted Fallon and Ben's story to end, and as fast as I wanted to devour the book I also wanted to savor it. November 9 truly is Colleen Hoover at her best, and it is the kind of book that every person can find something to relate to. Sweet, sexy, and funny, November 9 is one of my favorite reads not only this year, but that I have ever read. I cannot recommend this book enough, and I cannot wait to see what Colleen writes next.
**ARC Provided by Publisher**