Jen McLaughlin is the New York Times and USA TODAY bestselling author of sexy books with Penguin Random House. Under her pen name, Diane Alberts, she is also a USA TODAY bestselling author of Contemporary Romance with Entangled Publishing. Her first release as Jen McLaughlin, Out of Line, hit the New York Times, USA TODAY and Wall Street Journal lists. She was mentioned in Forbes alongside E. L. James as one of the breakout independent authors to dominate the bestselling lists. She is represented by Louise Fury at The Bent Agency.
Though she lives in the mountains, she really wishes she was surrounded by a hot, sunny beach with crystal-clear water. She lives in Northeast Pennsylvania with her four kids, a husband, a schnauzer mutt, and three cats. Her goal is to write so many well-crafted romance books that even a non-romance reader will know her name.
Hello everyone! I'm
Diane Alberts
, though I also write as Jen McLaughlin, and I just had a new Brazen come out called
SAY YOU'RE MINE
! It's the fifth book in the Shillings Agency Series, so I thought for this scene, it would be fun to go back to the first book in the series,
TEMPORARILY YOURS
, and the couple is Cooper Shillings and Kayla Moriarity.
A little taste of what the original book is about:
This marine's the perfect hoax...if she doesn't fall for him first.
Stats whiz Kayla Moriarity knows her way around numbers and algorithms. Men, on the other hand, are unsolvable equations. Now Kayla's en route to her sister's wedding--without the fictional boyfriend she invented for her family. Fortunately, her plane comes complete with complimentary cocktails and a ridiculously hot ex-marine in the seat beside her. And that's all it takes for Kayla's inhibitions to go sailing out the airlock...
Cooper Shillings has soft spot for people in trouble, but he certainly wasn't expecting to land in it himself--and definitely not while getting naughty mid-air with a sexy southern belle. When he hears Kayla's predicament, however, he offers his services as a stand-in boyfriend. After all, he's heading overseas soon...and how could he refuse a little no-strings wickedness?
It's the perfect plan. And all Kayla has to do is ensure her family falls for the ultimate bluff, without falling for it--and Cooper--in the process...
***
Kayla opened the door to the home she and her fiancé, Cooper Shillings, shared together, juggling keys, a purse, and a bottle of their favorite Red Moscato. "Honey, I'm home."
"In here," he called out from the living room.
She headed that way, dropping her purse and keys on the table in the foyer as she went. "You won't believe the day I had. There was a client who didn't believe my numbers, and made me recalculate them not once, not twice, but three—" She cut off, because standing there, wearing nothing but a bowtie and boxer briefs that left nothing to the imagination, was her tall, handsome, amazing fiancé.
He cocked a light brown brow, rocking back on his heels. The fire blazed behind him, playing with the shadows that silhouetted his perfect body. "He should know better than to doubt your numbers. They're always spot on."
"Well statistically speaking…" She swallowed hard, setting down the bottle of wine. "That's not quite accurate."
"See?" he smirked and came forward, one long stride at a time. "Like I said."
She pulled her wool scarf off. "To what do I owe this honor?"
"I knew you were going to have to deal with that asshole client, and I was trying to think of something to make our last unmarried New Year's Eve special then it occurred to me." He gave her the most bright, perfect smile. "We're getting married in exactly one month, and I hadn't even picked out a bowtie yet."
A strangled laugh escaped her, and he slid her jacket off her shoulders. "Wow. That's a pretty big decision."
"Right?" He leaned down, kissing her neck. "What do you think of this one? Does it make me look fat?"
Resting her hands on his chest, she shook her head, picturing his huge arms, hard abs and even harder butt in those boxers. To this day, she couldn't believe she met the love of her life in an airport. Statistically speaking, there was a ten percent chance of that happening. Maybe less. "No. Definitely not."
He gripped her dress, tugging it up slowly over her thighs. "I'm just not sure. Finding the right bow on the first try is uncommon. Like, maybe five percent."
"I'd say more like twenty," she said breathlessly as his fingers brushed her core.
"Mmhm." He nipped her shoulder, then pulled back to yank her dress over her head. After the clothing hit the floor, he stepped into her personal space, splaying a hand over her lower back. "I can think of twenty things I want to do to you, right now."
She bit back a moan, gripping his hard biceps. "Show me one."
"Gladly." He dropped to his knees, kissing her thigh right under her black lace panties. Cupping her butt, he massaged the muscles a little roughly, staring up at her with a burning possession in his eyes. "Open your legs for me, Kayla."
Obviously, she did as told immediately. "I—oh my God."
His tongue rolled over her, teasing her sensitive flesh, and within seconds she was already climbing the mountainside only he could bring her to. Rocking her hips forward, she rode him mouth, whispering, "Cooper."
Moaning, he deepened his intimate kisses, and she cried out, closing her eyes, seconds from her first orgasm of the night already.
It was always like this with him.
Magical. Powerful. Amazing.
She came, her breath escaping her in a whoosh, and he swept her off her feet smoothly, so she lay on the floor beside him. As he crawled in between her legs, trailing a finger up her thigh, he locked eyes with her. "I love you, Kayla Moriarity."
"I love you, too," she whispered, framing his face with one hand.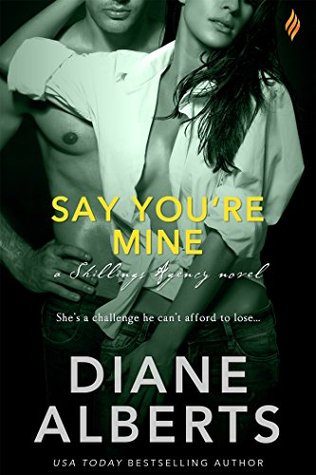 She's a challenge he can't afford to lose...




Navy SEAL Steven Thomas has only ever been able to count on three things: waking up in the morning, going to sleep sometime during the night, and Lauren Brixton. She's been his best friend since grade school, and what they have is the only relationship he's managed not to ruin.




Until one drunken night puts that all in jeopardy.




Lauren's watched Steven flit from one-night stand to one-night stand, seemingly not interested in something more. So when the long-ignored attraction between the two of them blows up in their faces, she does the only thing she can-she pretends she doesn't want him. But all's fair in love and war, and Steven's not about to lose the only person in his life who matters...






Up For Grabs:
1

eBook copy of Temporarily Yours & Stealing His Heart
To Enter:
Please fill out the Rafflecopter form.
**Don't forget to enter the grand prize giveaway!
Special thanks to Diane Alberts for sponsoring this giveaway.
a Rafflecopter giveaway