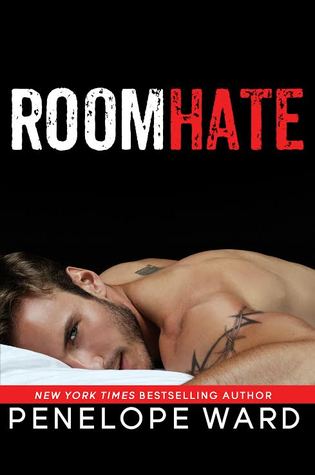 I could not wait to get my hands on RoomHate by Penelope Ward from the moment I first heard about it! Penelope Ward has quickly become one of my favorite authors, with each new story she releases just seeming to get better and better. RoomHate was absolutely everything I had been expecting and hoping for and I really loved it. Penelope Ward is a talented writer that has a way of drawing her readers in and bringing them on an emotional journey that will have you experiencing all the feels. RoomHate was not an easy journey for the characters, but I truly felt like it was so real and exactly as it should have been.
RoomHate starts with Justin and Amelia both inheriting half of Amelia's Nana's beach house. The two had been close as children and her Nana had always loved Justin. Amelia and Justin were best friends until she found out that he kept something from her and she abruptly left him behind to go and live with her father. Years later they haven't spoken since, but are forced back together because of the house. As both try to find their footing and figure out their new circumstances, Justin shows up at the house with his girlfriend. Though Amelia is jealous and wants Justin more than ever, she can't help but like Jade.
I really loved the characters here. I was a bit worried with Jade being in the picture, and of course I didn't want to like her. I really did though and I also knew that as great as she was, Justin belonged with Amelia. They had such a strong connection and a ton of history. My heart hurt for all that they had gone through and the pain they had felt, yet I also saw exactly what had happened and it was all so true to life. Life is messy and decisions get made whether they are right or wrong, and the circumstances here felt very real. The one thing that was easy to see though is that no matter what had happened or how each of them had tried to move on, there was so much unresolved and buried between these two that I knew it would come out sooner rather than later. Their chemistry was just too strong and their feelings were intense to not resurface. I never stopped believing that they would find a way back to one another.
Overall, I really can't get into the details of this story without spoiling anything but I thought that it was perfect. I felt like these characters ended up exactly where they were meant to and everything that had happened was for a reason. Penelope Ward writes such emotional stories that you can't help but feel emotionally invested in, and RoomHate was a perfect example of that. My emotions were all over the place and yet I couldn't get enough! I highly recommend RoomHate or any of Penelope Ward's books and I honestly can't wait to read more from her in the future.
**ARC Provided by TRSOR Promotions**