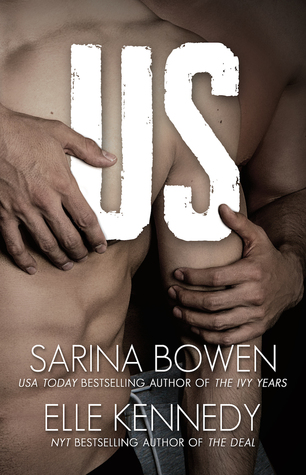 Us by Sarina Bowen and Elle Kennedy is the continuing story of Wes and Jamie. While each book can be read as a standalone, I would highly recommend reading in order since they are about the same characters. I didn't think it was possible for me to love these guys more than I already did, but Sarina and Elle proved me wrong, and I couldn't put this book down!
Us picks up where we left off with Him, Ryan Wesley has been drafted to the NHL and Jamie Canning took a job as a coach. They are living together and happy, but they are hiding their relationship. Though Wes is scared to come out and have it affect his rookie season, Jamie grows tired of keeping their relationship a secret. The one place that they have though is the apartment they share, and within it's walls there is nothing but the two of them. That is until Ryan's teammate moves in upstairs, and soon their safe haven is anything but. Can Wes and Jamie figure out a way to make it all work, or will their relationship be torn apart by everything that stands in their way?
I absolutely adore both Jamie and Wes! These were the same characters we have come to know and love, and yet this book had such a different feel to it. Him was lighthearted and fun, while Us is definitely more of an emotional read. Jamie was dealing with his job not being exactly what he had hoped for and the stress of not being able to have their relationship be out. Wes was dealing with the stress of making sure that his sexual orientation wasn't found out so that it didn't affect his career and season. While the love and feelings were never in question here, there was a lot more going on than in the first book. Don't get me wrong with these two guys and Sarina and Elle writing, there were definitely funny times here too. But this story was so much more, and I loved getting to see these guys as they grew and healed both together and as individuals.
This book was not always easy, and the journey for these two had me feeling so many emotions. But I knew that these guys were meant for one another, and the connection they had was so rare and special that they had to find a way to make things work. I absolutely love these characters, and I really hope that we get a story for Blake after reading this book! He was one of my favorites from this book and I would love to have him get his own book! Sarina and Elle are fantastic writers and I can't get enough of their books! Him and Us are some of my all-time favorites, and I really hope that they never stop writing both as individuals and together! If you haven't read Him or Us, I highly recommend reading these books! If you are already a fan of Him, Us is a must read!
**ARC Provided by Bocci PR**