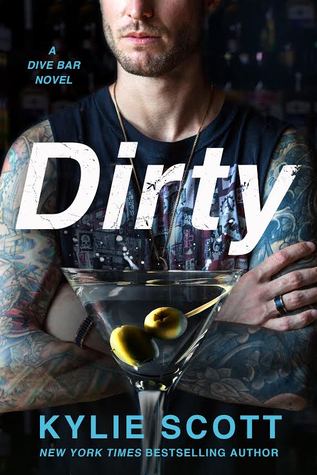 Dirty is my first book by Kylie Scott, and also the first book in her Dive Bar series. I have heard such great things about Kylie Scott's books that I couldn't wait to read this one! It was such a fun read, and I thoroughly enjoyed it from start to finish! I can't wait for the next book in this series and to get more of all these amazing characters.
It is bad enough finding out that the man you are supposed to be marrying is having an affair on your wedding day, but when Lydia Green finds out that it was with his best man she knows that she has to get away! Running away, she heads through the woods and finds herself at a cottage with an open window, but what she doesn't expect is for the cottage owner to be so sexy when he finds her looking like a mess. Vaughan Hewson didn't expect to find a mess of a bride in his bathtub, but he can't help but want to help the girl out. Soon these two realize that maybe the messes they are in could end with them finding something good with each other. Even if they are complete opposites and shouldn't work, they decide to enjoy the time they have together getting a little dirty.
I really loved these two. They were so fantastic right from the start. Vaughan was sexy and I loved how he was with Lydia. He was exactly what she needed after her ex, and I loved that he not only showed her what she had been missing out on but that he also showed her how great she was. She had some insecurities and Vaughan helped her to get over them while living life instead of just going through the motions. Vaughan had been dealing with a lot on his own and had never really dealt with the loss of his parents, but Lydia helped him to see that sometimes dreams change and that it was alright to be vulnerable and open up to someone. Their chemistry was off the charts, and they were really hot together!
I loved how light-hearted and fun this story was. I found myself breezing through this one because it was such an easy story to get lost in. Kylie Scott grabbed my attention right away here, and I didn't want to put it down because I had to see what would happen for these two. I really liked the secondary characters here as well, and I already can't wait to get more in this series. I definitely recommend this one if you are looking for something quick and fun! After reading Dirty, I can definitely see why so many readers love Kylie's books, and I am looking forward to reading more from her in the future!
**ARC Provided by Publisher**