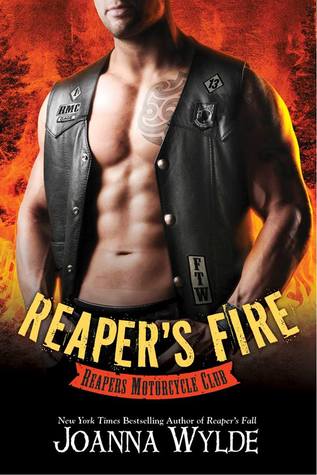 This is probably going to be more of fangirl letter to Joanna Wylde than a review, but I don't care. Joanna Wylde outdid herself! I've read all her MC books: Reapers and Silver Valley. Wylde not only really knows her craft but seems to really know the MC world. I've read so many other MC books and they do not compare to Wylde's research. She brings the MC world to life and seems to really know the rules that it abides by and stays true to it.
Finally, we get Gage. I feel like we have been waiting for Gage forever!! Gage has been in the previous Reaper's books and I always enjoyed any little tidbit that Wylde gave us in the previous books. Gage is Picnic,the Reaper's President, right hand man. He is a great strong and sturdy character all throughout and even in "Reaper's Fire. Gage has always put the club first, it is his heart and soul. When he takes on a special "assignment" he has to travel to Hallies Falls to deal with another MC club that is not abiding by the rules of the MC world. Gage changes his name to Cooper and is visiting under the guise that he is a divorced man with two children. He sees an ad for a handy man posted by Tinker. Tinker and Gage have instant chemistry. They have a very strong attraction to each other but they both have many complications that they need to overcome first.
Tinker is fantastic. I loved her so much. She is tough but also very pure of heart and vulnerable. She has been kicked down by life a few times and is trying to find herself again. She is in the middle of a divorce and has moved back to Hallies Falls to take care of her father. Her mother has recently passed away and her father's health is a major concern also. Tinker is happy to be back home but has a lot to deal with. One of those issues is that "Cooper" and her can't fight their attraction to each other. Another complication is that he has a girlfriend. As the reader we know the real reason that "Cooper" has this girlfriend-all MC business and loyalty-but Tinker is not privy to this so it complicates her feelings for Cooper.
There are many levels to this story. One is Gage/Cooper's dedication to his brothers in the MC club. It is admirable and it ultimately pays off but it comes with great sacrifice. Second, the development of both Gage and Cooper was so rewarding to see. Both of them develop and grow as the story progresses. I really loved them both individually and as a couple. As a couple Tinker and Gage have many obstacles to overcome: their pasts, their present and ultimately-their future. Wylde gives us some great secondary characters that had me laughing-out-loud and I loved them! She also gives us some insight into what the future will look like for not only Tinker and Gage but the future of the Club as well. I have to add any time Picnic makes an appearance I just love him more and more. For me, this was another great read by Wylde:full of adventure, passion, laugh-out-loud moments and MC violence. Now… counting down until the next Reaper's book!
**ARC provided by Publisher**