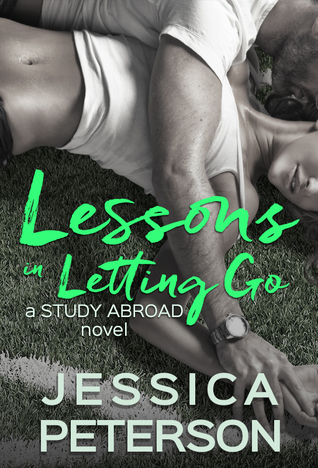 Lessons in Letting Go is the third book in the Study Abroad series of standalones from Jessica Peterson. Each book is interconnected but can easily be read out of order. As I have enjoyed the previous books in the series, I was really looking forward to this one. Unfortunately it was my least favorite of the three and I had mixed feelings on the story.
Rhys Maddox is a famous soccer star and Laura Bennet is a student spending a semester in Madrid. When they meet, Laura becomes a sort of good luck charm for Rhys, while she finds herself getting caught up in his lifestyle. But soon she realizes that though she wants him, she needs to take back her life, so she lets him go and sets out on her own. But is Rhys willing to let her go or will he finally let go of his ego in order to take a chance at something with Laura?
I have to admit that while I was looking forward to this one after the previous books, the characters were where I had the most issues with Lessons in Letting Go. I found it really hard to like Rhys, as he was just too much of a jerk at times and stuck on himself. He definitely needed to get his head on straight, and it just took too long for me to see any progress and at that point I had stopped caring. Laura was slightly better, but she seemed a bit too all over the place and wasn't easy for me to relate to. The communication between them was also a real problem for me, and I just wasn't feeling anything between them, despite wanting to. I felt so disconnected from these two, and because I didn't really care for either of them I just lost interest in their relationship. I think it might have helped had Rhys turned over a new leaf sooner here, but it was a bit too little too late for me to get into this one.
Overall, the characters really hurt how I viewed this book and that was the main thing that kept me from enjoying this book as much as I did previous books in the series. The writing was great as I have come to expect from Jessica Peterson, but I couldn't get over lack of communication and my dislike of the characters. I do think that Jessica Peterson is a talented author, and this won't be the last I read from her. While this one wasn't my favorite, I would recommend giving it a go if it sounds like something you might like or if you enjoyed the previous books in the series.
**ARC Provided by Author**