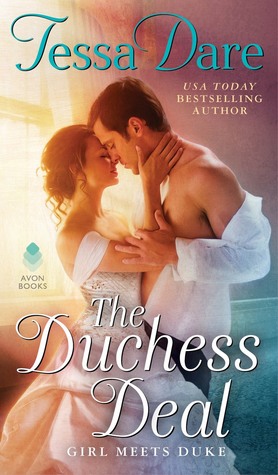 I've had a galley of "The Duchess Deal" for several weeks and I cannot believe it took me until the publication date to get around to reading it! I've read Tessa Dare before and loved her books! "The Duchess Deal" had me laughing so hard I had to out the book down. There are so many funny and witty scenes I re-read them several times. I started highlighting witty dialogue and then gave up because more than half of the book would be highlighted! This is a true beauty and a beast love story with laughter, tenderness and very, very, sexy scenes!
First, the heroine. She is one of my all-time favorites! Emma Gladstone vicar's daughter turned seamstress was everything anyone could hope for in a heroine. She is sweet, tender, tough, funny witty and resourceful! Life has knocked her down a few times and she fought her way up. With pricked fingers from her trade she marches up to the Duke of Ashbury and demands compensation for the gown she sewed for his ex-fiancée. Although the wedding never took place, Emma needs the money to pay for her rent. Emma refuses to be kicked out on the street and in the cold again. She went down that road once before and she won't do it again.
Soon after his engagement is called off, Ash finds himself in need of a wife. It shouldn't be so hard since he is extremely wealthy. But the brutal scars he received on the battlefield are deterrents to any lady of the ton. When Emma appears in his study wearing his ex-fiancee's wedding dress Ash is sure that he has never seen anything like this before. First the dress is hideous and Ash tells Emma so and second he is in desperate need of a duchess. When Ash makes Emma an offer she cannot refuse-she refuses! She is certain that Ash is mentally unstable and gratefully takes her fee for the dress and leaves. But Ash is not ready to concede defeat yet and he finds Emma at the local dress shop where she works. Emma realizes that she is given an opportunity that she will never receive again. Her father has disowned her and her trade will only take her so far. She accepts but Ash has very specific rules for their union. Theirs is a union of convenience and there is to be no affection between them. Once Emma provides Ash with an heir her duties will have been completed and she can run off to a little house he owns in the country and live out the rest of her existence as she wishes. The plan seems simple enough if Emma and Ash don't end up falling in love with one another. But both Emma and Ash carry a lot of hurt and anger from their past. They are both not use to feeling vulnerable since in the past it has ended up with both their hearts broken.
Needless to say this was such a fun story to read! It was so gratifying on so many levels. The witty quips back and forth and the amazing chemistry made Ash or "bumpkin" as Emma likes to call him, a great couple. I really enjoyed both of them as individual characters and as a couple. I ached for them and all the hurt that they carried and triumphed with them when they finally find love! This is definitely one of my all-time favorite stories!
**ARC provided by Publisher**