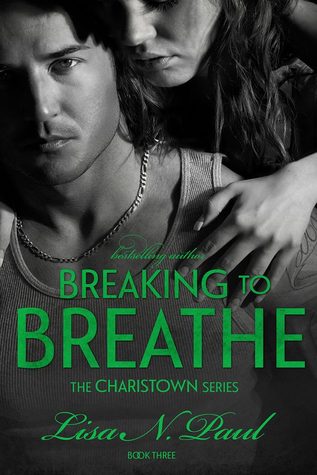 Breaking to Breathe is the third book in Lisa N. Paul's Charistown series, but can easily be read as a standalone. I hadn't read any of the previous books, but I had no problem getting into this one. I thought it was well written and enjoyable. I really liked the characters, and I didn't want to put this one down. I can't wait to read more in this series.
Kyle Marx has had a rough life and uses women, booze and drugs to self medicate. He avoids dealing with his past, and only does one night stands. After he is saved from a horrible accident, he can't stop thinking about the angel that rescued him. He sees her in his dreams and knows that she is what helped him make it through. Cate Lockton has her own set of issues and avoids anything more than one night stands. She has a set of rules that she lives by for her hook-ups and she sticks to them. After rescuing Kyle from the accident, he has often been on her mind. When she sees him at a bar while out with her best friend she thinks he would be the perfect one to help her get out of her slump and help her scratch her itch. But things quickly become complicated after their one night together turns into more. Can Kyle and Cate help heal each other, or are they both too broken to work?
I really liked Kyle. At first he was arrogant and was a total manwhore. But he was honest and said what he was thinking, and I did like that about him. He was so different with Cate though, and you could tell right from the start that she was unlike any of the women he usually went for. I liked seeing him clean up his act and really become the man that he could be. He had been through so much and it was good to see him finally find someone that he could heal with. He had a great support group with his friends and brother, but it wasn't until Cate that he really started to change. Cate took a little bit for me to warm up to, but I ended up liking her a lot. I loved her friendship with Elliot and I thought that they were such a great pair. But I really thought that Kyle was exactly what Cate needed. He brought out this whole other side to her just like she did with him. I liked that she went after what she wanted with him and she wouldn't let him get away with his typical crap. She helped him to heal and grow, but he also did the same with her. It was great to see her start to lean on him as well, and I thought that they worked really well together. They had a ton of chemistry together, and I loved that Kyle was a dirty talker!
Overall, I thought that this was a really good story. I thought that Kyle and Cate were a great couple, and what made them work so well is that they were both broken. They understood how bad things can get and that they both had issues to deal with. They were able to help each other when no one else could. I do think that at times in this story that the secondary characters were too much. It seemed like a lot going on at times, and I thought that the focus should have been more on Kyle and Cate rather than Cate and Elliot or Kyle and his friends. But I did like all the characters, and I think fans of this series will really enjoy getting to see all their favorites from the previous books. I would recommend this book to fans of the NA genre that are looking for broken characters that are able to grow and heal with the help of each other. I think that Kyle and Cate were easy to root for, and I was invested in their story from the start. I look forward to reading the first two books in this series, as well as the next book from Lisa N. Paul.
**ARC Provided by Book Plug Promotions**
Purchase:
|
Amazon
|
Kindle
|
B&N
|