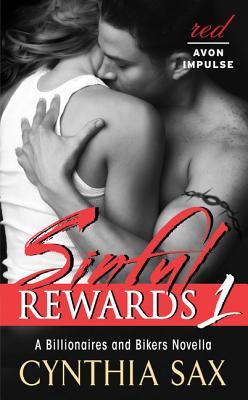 Belinda "Bee" Carter is a good girl; at least, that's what she tells herself. And a good girl deserves a nice guy—just like the gorgeous and moody billionaire Nicolas Rainer. He is everything she wants in a man.

Or so she thinks, until she takes a look through her telescope and sees a naked, tattooed man on the balcony across the courtyard. Hawke is mysterious, the bad boy she knows will bring only heartbreak. He has been watching her, and that makes him all the more enticing.

But when a mysterious and anonymous text message dares her to do something bad, she must decide if she is really the good girl she has always claimed to be, or if she's willing to risk everything for her secret fantasy of being watched.

Is her mystery man the reclusive billionaire with a wild side or the darkly dangerous bad boy?

Purchase: | Amazon | B&N | iTunes |
Cynthia Sax
lives in a world filled with magic and romance. Although her heroes may not always say, "I love you", they will do anything for the women they adore. They live passionately. They play hard. They love the same women forever.
Cynthia has loved the same wonderful man forever. Her supportive hubby offers himself up to the joys and pains of research, while they travel the world together, meeting fascinating people and finding inspiration in exotic places such as Istanbul, Bali, and Chicago.
Find Cynthia at:
Check out what's up for grabs.
Up For Grabs:
3 eBook copies of Breaking The Rules
To Enter:
Please leave a comment or question for Cynthia.
Please fill out the Rafflecopter form.
Special thanks to Cynthia Sax & Tasty Book Tours sponsoring this giveaway.
a Rafflecopter giveaway