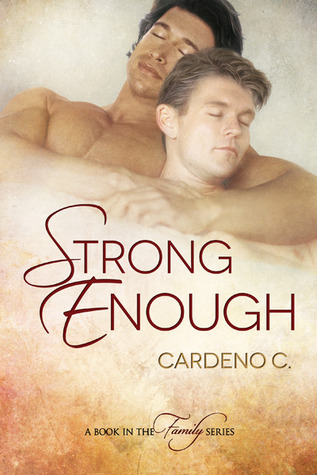 Strong Enough is Cardeno C.'s second installment in the Family series, but each of these books can be read as standalone novels. This book really intrigued me because of the large age difference, and I was really interested in how that would play out. While I did like the characters, I thought that this one had some other things that just didn't work for me. While I have been enjoying this series and like to see how each of these books and the characters interconnect, I have also found that there are just some things that in my opinion keep these from being five star reads.
Emilio is a twenty-two year old construction worker that works with and is really close to his family. When he sees the hot professor walking by his construction site at the university, he admires him from afar. After two weeks of watching, he finally decides to introduce himself and ask him out. Spencer can't believe that the handsome young man could be interested in a thirty-eight year old professor, but decides to be spontaneous for once. Spencer takes Emilio to his home and they begin to get to know each other. Soon they are making a deal that Emilio and his family will help to fix up Spencer's house, and in exchange Emilio will stay with Spencer and see where things take them. But Spencer has things from his past that still haunt him, and even though he wants to trust Emilio they weigh heavily on him. Can he learn to let go and trust that the connection between him and Emilio is worth being vulnerable for?
I liked Emilio. He was young and determined, but yet he was mature beyond his years. He went after what he wanted and was able to admit that while most would question his actions that it didn't bother him. He was exactly who he said he was, and I liked that what you saw was what you got with him. I loved how reassuring he was with Spencer and how he showed Spencer that he was worth more than how he had been treated by his family and his ex. Spencer was timid and insecure, but he knew that things with Emilio were different. He started to let go and embrace life with Emilio's help, and it was nice to see him start to think differently about himself. I was glad that Spencer was able to be open with Emilio and tell him his fears and why he was the way he was. I think it really helped him to move forward and allowed Emilio to be patient and understanding. I thought that Emilio and Spencer were really sweet together, and they had their steamy moments too. But their relationship was way too fast for me. It was literally like going from nothing to all in in a matter of days, and I just didn't buy it at all.
I have noticed that the insta-love/insta-connection seems to be a trend with the Cardeno C. books I have read. While that doesn't work for me as far as buying a long term and lasting commitment goes, if you are able to get past that Cardeno's books are really good and easy to read. They are entertaining, and I love how her characters are different and unique. I thought that Strong Enough was sweet and the guys were really cute together. But I just think that it would have worked better for me personally had they not just jumped straight into the deep end. I would have liked to have seen a bit more of the build up, and I think that we miss out on some of the best parts of a relationship by skipping all that. I would say that if you are looking for a sweet male/male read though, you should definitely look into this series. The books have a great balance of cute and hot, and the books are enjoyable. I will look for more from Cardeno C. in the future.
**Review Copy Provided by We Love Kink Book Promotions**
Purchase:
|
Amazon
|
Kindle
|
B&N
|
Book Depository
|