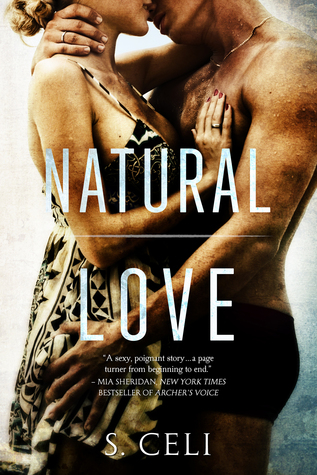 Oh how I was looking forward to this book! I had never read anything by Sara Celi before, but when I saw the cover and read the blurb of this one I knew I had to read it. I am a huge fan of taboo romance stories, especially this particular one. Unfortunately, I had quite a few things that kept me from loving Natural Love.
Forced to leave town after a terrible mistake that caused an accident, Spencer Chadwick spent two years in Africa working with the Peace Corps. Finally back home, he is determined to take his place with the family business. Nothing and no one will keep Spencer from accomplishing his goals, but the one person that could possibly get in the way of that is the one person that he can never have. Spencer has loved Avery Jackson for longer than he cares to admit, but they can never be together despite the attraction and feelings between them. Spencer and Avery try to fight what is between them but eventually give in. As they try to keep their new relationship a secret though, past secrets threaten everything that they are building. With the truth coming out a matter of time, Avery and Spencer must fight for the future they both wish they could have.
I liked Spencer and Avery. These two were in a tough situation, and I could see why things between them would not be accepted by the people surrounding them. Not that there was anything wrong about them being together, but some people have closed minds and refuse to accept anything other than what they consider to be normal. Avery and Spencer had a history though, and it was clear to see that these two had always cared about one another. They had a special relationship and things had changed for them over the years. I thought that they had a great relationship and connection between them, but others had a huge effect on them.
There were a few things that didn't work for me though. I thought that this book was a bit hard to get into at first, and it had some pretty slow moments. While Avery and Spencer kept me reading, there were parts where my interest started to wane. I will also say that things got a little too repetitive for me. I don't like being constantly reminded while reading how taboo their relationship is for this reason and that, or how they had it hard growing up with the expectations of being a prominent family. I felt like the author was trying to continue the drama and build up the secret the main characters were keeping. I will also say that to me the secret was a bit of a let down. It was predictable and has been done time and time again. I feel for the characters and anyone who has ever been in that situation. It is horrible and something no one should ever be forced to deal with. But by the time the truth was revealed, it just felt like a disappointment because it has been done so many times before. After the truth was out there, this book seemed to rush to the finish and I felt like the ending wasn't as satisfying as it could have been because of that. After the entire story was drug out, the rushed ending really didn't make much sense to me. That was honestly the part that should have been longer in my opinion, and I wasn't sure why after everything the author felt the need to tie things up so quickly and with so few pages. I just felt like this story had so much promise, but that it failed to deliver. I was interested in the characters and I didn't want to stop reading, but I felt as though this one could have been so much more. For me what could have been a great book was only okay, and felt like many other NA books that I have read but rehashed with a different setting and characters. I will say that this one is a standalone and doesn't contain any cheating or love triangles, so if you are looking for a NA book that falls within those parameters that you might want to give this one a shot. It wasn't a bad story and I did enjoy parts of it, it just wasn't anything really special or standout though.
Purchase:
|
Amazon
|
Kindle
|
B&N
|