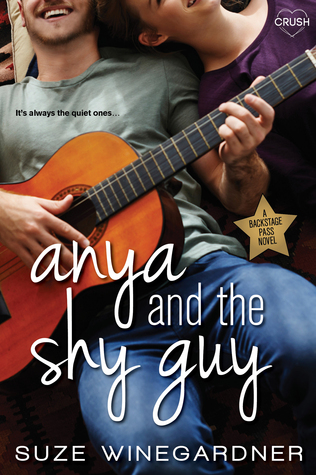 Anya and the Shy Guy is the fourth book in the Backstage Pass series. Each book in this series is written by a different author and can be read as a standalone story, though the characters are interconnected. This installment is written by Suze Winegardner and is the first book that I have read from her. While I enjoyed parts of this story and thought it was a cute and sweet read, there were some things that I had issues with.
Anya Anderson has been living on the streets and is looking to catch any kind of break she can. When she gets the chance to go on tour with the band Seconds to Juliet while interviewing one of the members, she jumps at the opportunity. She needs the money to help a friend that is also homeless, and Anya is determined to dig up whatever secrets will make her the most money. When she arrives on tour, she is assigned to Will Fray the "Shy Guy" of the band. But what Anya doesn't know is that Will Fray is actually his twin brother Matt Fray. Will Fray has been in rehab since tearing his ACL and Matt has been filling in for him. But if Matt and Will's secret gets out, it would mean his family would be sued. Matt knows that he needs to keep his secret safe and the best way to do that would be to avoid Anya as much as possible. But the more he is around her, the harder it is to fight the pull he feels towards her.
I had a hard time connecting with these characters, though I did like them. Anya and Matt were cute together and I liked their relationship towards the end of the book. I have to say that I didn't really feel their connection though, and by the time I did it was at the end and came off as feeling like insta-love. I did like Matt's character, and I loved how he was willing to do whatever it took for Will and his band. He was a nice guy and he was very easy to like. Anya was likable enough, but I just never really found her easy to relate to. I didn't really feel as though we got to know much about her, other than the fact that she was homeless and that she was trying to look out for her friend. I did like that she wasn't willing to compromise who she was to make some money when she had the opportunity. I admired that about her, and it really made me like her character despite the fact that I couldn't really relate to her.
I also felt like this story was pretty choppy at times, and it came off as disjointed. Some things felt underdeveloped to me, besides just the connection between Anya and Matt and I was wanting some of these to be explored more than they were. Add that to the fact that this story was very far fetched and pretty unrealistic, and I just couldn't get into it as much as I had hoped. So while this one was sweet and had its cute moments, it was just okay for me. I think if you are looking for something light and easy to just enjoy, this might be one worth giving a shot. But if you are looking for something with more depth, this might not be the one for you.
**ARC Provided by Publisher**