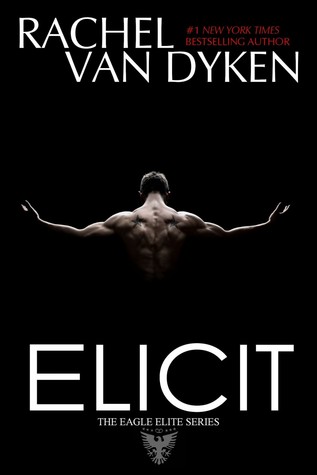 Elicit is the fourth book in the Eagle Elite series by Rachel Van Dyken. These books are best read in order as they continue the overall story from one book to the next. I was so excited to read Elicit, because I have been dying to get to know both Tex and Mo better. I really loved this book, and this series just keeps getting better. With each book not only do we get to know more about each of the characters, but we also get more about The Family and their world. I really love this series, and these books are not to be missed.
Tex was always the cursed Campisi but after killing his father, he is set to take over as the Cappo. He is used to craving the darkness and the violence, and only one person has ever been able to save him. Mo Abandanato is his best friend's little sister, and the princess of the Abandanato family. They are destined to be enemies, but have loved each other since they were kids. They both know that there is no way for them to be together in the future, but that doesn't stop the feelings that they both have. While they struggle with things that they have both done to hurt each other in the past, they must also face their future and the fact that that means they will be forced to leave each other. But with a war coming, will they be able to help save each other?
I really loved Tex. He was so much different than what you first think. He has always sort of been the quiet one that you never hear much from besides a few jokes, but in this book we really got to see just how smart and dedicated he is. I loved getting to see him as he struggled to balance his love for Mo as well as the fact that their families were on opposing sides. He cared about her so much he would do anything for her, even if that meant breaking his own heart. You could really tell just how deep his feelings for her went. Mo was strong and smart, and had grown up being tough because she had to be. She understood how things worked, and lived her life according. What I loved most about her though was that she loved Tex as much as he loved her, and she was so fierce when it came to him. She would do anything she could to protect him, just like he would do for her. These two absolutely belonged together, and there was no other person who would get them or loved them like they did.
Overall, this was a fantastic addition to the series. I really loved seeing what happened next with all the characters and getting to know Mo and Tex. I feel like they were so much more than what we had seen before. I really can't pick a favorite character or couple from this series because I absolutely love them all. Just when we think we know a character and what is going on, Rachel Van Dyken throws something at you that completely shocks you. I love how everything builds from one book to the next, and we never quite know what all is going on but in the end it all makes sense. I really can't say enough good things about this series, except Rachel Van Dyken is an amazing writer and this series is one I really recommend. If you aren't reading this series or Rachel Van Dyken's books you are seriously missing out! I can't wait to read more from Rachel Van Dyken.
**ARC Provided by Inkslinger PR**
Purchase:
|
Amazon
|
Kindle
|
B&N
|