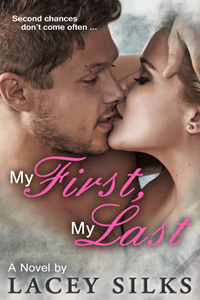 My First, My Last is a standalone contemporary romance by Lacey Silks, and I was really excited to read this second chance love story. This one really intrigued me with the blurb, and I thought that it was really different from anything else I had read before. As much as I like portions of this book, I also had some problems with this story as well. I think that a lot of people will really enjoy this book though and I am definitely interested in reading more from Lacey Silks in the future.
Adrian and Mia fell in love when they were young, but distance forced them apart. With Adrian living in Europe and Mia living in Toronto, they knew there was no way to continue to see each other regardless of their feelings. Twenty years later, Mia is out with friends when Adrian approaches her at a bar. Adrian once let Mia go, and refuses to make the same mistake again. Knowing that Mia is now divorced, he thinks it is the perfect time to show her that they belong together once and for all. But can Mia move forward with Adrian after all this time or will there be too much still standing in their way. And what will Mia do about her hopeful ex-husband Dan who still wants her and their family back?
I really loved Adrian. He was sweet and thoughtful and so extremely patient. He could not have been better all around, and I thought that he was just a genuinely good guy. I felt so bad for Mia and Adrian, and they had been through so much in their youth. The only reason they had ever split up wasn't because of problems between them, but because of distance and the separation. It was terrible that they were separated for so long for reasons beyond their control, but you could really see that time and maturity had made it possible for them to come back to one another. Mia drove me nuts at times though. I loved her with Adrian and her kids. But it was her consideration and constant worry about her ex-husband Dan that was my problem. I hated the face that he treated her like crap and that he had betrayed her but that she never got mad and continued to bend over backwards for him. I found it ridiculous how much she seemed to worry about his needs and didn't think about her own. Adrian was so good with her and her kids though, and I was glad to see him and her mom and best friend really show her that she deserved a happier and better life. I thought that Adrian and Mia's connection never wavered despite the years apart and you could see that they never stopped loving one another. I thought that they had a lot of chemistry and the attraction between them only seemed to have increased with time.
I also thought that the lack of swearing and the way it was brought up at times was almost unrealistic. It just seemed odd that for a book in this genre with the content this had that it was so out of place, and I found it distracting. I really wanted to love this book, and I still thought that a lot of the story and the ending were great. But I just thought that between Mia and a few of the other issues that I had that this one just missed the mark. I was hoping for more, and this one just wasn't able to deliver everything I was looking for. I thought that it was sweet and light, but I was surprised by how almost perfect everything worked out. I just didn't find it believable, and I couldn't see it ever happening the same in real life. The conflict between Mia and her ex Dan and the reason for their split seemed so minor and I couldn't imagine ever being as okay with that situation as she was. I do think that there are readers out there that will enjoy this story, and contemporary fans as well as second chance romance fans alike will want to consider giving this one a shot. It was just hard for me to really get into this story because I felt like I didn't understand Mia and couldn't connect with her. I am interested in seeing more from Lacey Silks in the future.
**ARC provided by Author**
Purchase:
|
Amazon
|
B&N
|