Author of Erotic Romance,
Lacey Silks
writes her stories from life experiences, dreams and fantasies. She likes a pinkish shade on a woman's cheeks, men with large feet and sexy lingerie, especially when it's torn off the body. Her favorite piece of clothing is a birthday suit.
When she's not thinking about writing steamy stories, which is a rare occasion, Lacey enjoys camping and skiing with her family (not at the same time of course). She's a happily married wife blessed with two kids who adore going to the library. She's an early bird by nature, but loves the nightly adventures with her hubby which provide good content for her books.
Find Lacey at:
10 Fun Facts About Lacey Silks
1. Although very shy in life Lacey's dream was once to be an actress. As a teenager, Lacey took on the work of an extra in movies and TV shows. She's been lucky enough to meet Shirley Maclaine, Ricki Lake, Brendan Fraser, Jerry O'Connell, Matthew Broderick and Marlon Brando.
2. Lacey has a secret crush on actor, dancer and singer Derek Hough (it's not a big secret so she doesn't mind sharing this). She recently had the chance to watch Derek and Julianne Hough perform on their Move on Live Tour and came within 10 feet of him when he jumped off the stage and ran into the crowd. Lacey nearly fainted, but luckily had her husband by her side for support.
3. Lacey's dream vacation is the Atlantis in Bahamas. She hopes to surprise her family with the trip within the next couple of years.
4. When writing My First, My Last Lacey used her own name, her hubby's name and her first boyfriend's name in the manuscript later replacing the names with current characters. She fully imagined herself in Mia's shoes, making some scenes quite difficult and emotional to write.
5. Lacey likes to take risks (not life risks). She doesn't like the sentence "This can't be done" and believes there's always a way out of a difficult situation.
6. The mention of flying or going on a plane gives Lacey goose bumps. She has an unbelievable fear of flying that has developed after the birth of her kids. She will stay buckled up the entire flight, will not go to the bathroom and will pray during take-off and landing. Please be gentle if you ever find yourself sitting next to her.
7. Joking around is part of Lacey's daily routine. She will prank her family, giggle on the floor and snort if there is a need.
8. At twenty, Lacey shared a bottle of Goldschlager with her best friend on a New Years Eve and hasn't touched it since.
9. Lacey has a long bucket list she's been crossing off for years. Some of the items she's done: Vacationed in Jamaica, swam with dolphins, rode a horse on a beach (and in the ocean). Outstanding: Las Vegas, Tour of Europe, Australia, Bahamas, having a small roll in a movie. While she may not be able to cross everything off in her lifetime, dreaming big is part of who she is.
10. Lacey's first boyfriend actually does live in Vienna, Austria (as described in My First, My Last), has a barbell piercing in his brow and a tattoo on his right arm. He is a good friend of hers and Lacey thinks he blushed when she told him about My First, My Last. She hasn't seen him (other than via Skype) in 20 years.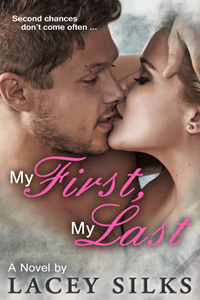 Fate has kept them apart for twenty years.

Their roads hadn't crossed and the stars didn't align until now...

Matured, more experienced, pierced, tattooed and hot as hell, Adrian steps back into Mia's life to reclaim his first love.
And the moment she sees him she can't even remember her own name.

Adrian Reed had always remained in Mia's heart. After all, he was her first boyfriend and the man she'd lost her virginity to, but that was twenty years ago. His sudden appearance at a bar, on a girls night out, has Mia acting like the fifteen year old girl she was when they parted.

But life now is not as simple as it was twenty years ago. With two kids, a hopeful ex-husband and new insecurities, Mia finds opening up to a new relationship more challenging.

Will she give her first love another chance, or will she push him away, this time for good?

Purchase: | Amazon | B&N |
Check out what's up for grabs.
Up For Grabs:
1 $25 Amazon Gift Card
1 $5 Gift Card from Ember Casey
1 eBook set of Layers Trilogy
1 eBook copy of Jaded by Olivia Regal
1 eBook copy of Ripped by Olivia Regal
1 eBook copy of Stone Cold by Olivia Regal
1 eBook copy of Learning Curves by Olivia Regal
2 eBook copies of Asher by Jo Raven
1 Swag Pack from Clarissa Wild
To Enter:
Please fill out the Rafflecopter form.
Special thanks to Lacey Silks sponsoring this tour-wide giveaway.
a Rafflecopter giveaway