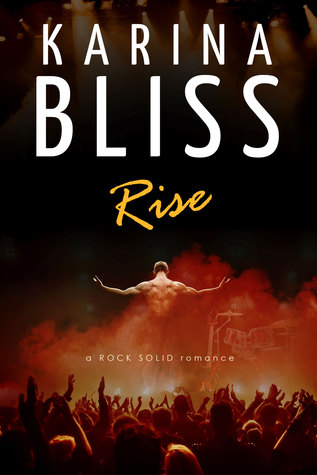 Rise is the first book that I have ever read by Karina Bliss, but I wanted to give this one a shot since I am such a sucker for rockstar romance stories. For me, while this story was good, the book just didn't work for me. I know that is kind of confusing to say, but I will do my best to explain. I think that a lot of people will like this book, as I said the story was a good one. But my problems were more about the style it was written in, and that is a personal preference.
Bad-boy rockstar Zander Freedman needs someone to write his memoir. He has already fired two writers and needs to get his story out there. He wants Elizabeth Winston to be the one to do it. Elizabeth is used to writing historical biographies though and prefers her subjects to be long gone. She spends years researching and writing her books, and isn't interested in rushing a biography on a rockstar just because he wants her to. After the two come to an agreement though, Elizabeth begins to see that there is more to Zander than meets the eye. As the two of them spend more time together, they begin to grow closer and find themselves drawn to one another.
I liked both Elizabeth and Zander, but I honestly felt like I never connected with them. For some reason I just never really felt like I was truly invested in their story. Zander had so much more beneath his surface, and I liked that Elizabeth was able to reveal more as she began to dig deeper for the book. The more she learned and fell for Zander, the more I liked him as well. Elizabeth was smart and dedicated to her work, I really loved her integrity. She didn't want to just put something out there with her name on it if it wasn't the right story, and I really admired that about her. Zander was more than a handful, and Elizabeth was the right person to be able to deal with it. I liked that she challenged him, and I thought that they were good for one another.
I will say that this story was really slow for me and that was a really big reason that this story wasn't for me. I found myself bored easily and kept wanting to walk away. This is unlike any rockstar story I have read before, and I just thought it was unfair to really label it as a rockstar romance because of that. It didn't feel like a rockstar romance, but more as a romance that just so happened to have a hero that was a rockstar if that makes sense. I also found it hard to get behind the writing style of the author, and it just didn't gel with me. It wasn't bad, but I just didn't care for it. Part of that was that the author uses a lot of terms and phrases that didn't make a lot of sense to me seeing as how she is from New Zealand. Most I was able to figure out by context clues, but it was a bit disorienting while reading to have to try and decipher what they were talking about. It made me lose interest in the story, and any connection I had been feeling would be severed. I will say that while this book just wasn't for me, I do think that others will like it. If you are looking for your typical rockstar romance, I probably wouldn't recommend this one. But if you are looking for something deeper and different, you might try giving this one a chance. It wasn't a bad story, it just wasn't for me.
**ARC Provided by AToMR Promotions**
Purchase:
|
Amazon
|
Kindle
|
B&N
|
Book Depository
|
iTunes
|