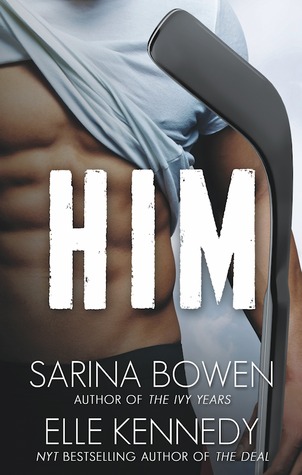 I could not wait to get my hands on Him by Sarina Bowen and Elle Kennedy. When I first heard about this book I immediately emailed my friend and told her how excited I was, and from that point until I got a copy I pretty much stalked these two online for any possible news. I have to say that this book was everything and more when it came to my expectations and excitement, and I honestly could not put it down. This is hands down one of the best collaborations I have ever read and I hope that this is just the first of many for these two brilliant authors.
As the Frozen Four approaches both Jamie Canning and Ryan Wesley want nothing more than to see their teams come out as the winner. They were once best friends, but one night and one bet changed everything between them. Now four years later and set to possibly face each other in the rink, they both begin to think about the past and the friendship they once shared. But Ryan knows what happened all those years ago, and has kept his distance ever since. He knew that his crush on Jamie was one way and that Jamie was straight. But when they are once again spending time together, the connection between them comes right back and soon things begin to get complicated. Ryan will do whatever it takes for a little more time with Jamie, even knowing that it will be torture. So when he shows up to coach alongside Jamie for the summer and Jamie starts showing some interest in him, will he find that maybe his feelings weren't so one-sided after all?
I absolutely loved these characters! Jamie and Ryan (Wes) were so unique and different, and I have never read anything similar to these two. They had such a strong friendship and connection as well as chemistry from the very first page, even with years spent apart. These two were so much fun to read about, and I could not get enough of them together. Wes was the wild and outgoing one, he was always getting himself in trouble and the one that instigated everything. Jamie was more quiet and reserved, the one who was a natural leader and a great coach to the kids at the camp. But when these two were together, they really balanced one another out and took on some similar qualities and I found that so interesting. Seeing Wes with the kids and showing them that you could have fun and still be a good player and teammate was something I really enjoyed. I also loved seeing Jamie become more vocal and take some initiative when it came to being with Wes, since that seemed completely out of character for him. These two were smoking hot together, and might have been some of the hottest characters I have ever seen.
Honestly, once I started this book I never wanted it to end. It was everything I look for in a good story, and had me experiencing all the feels. These guys were cute and sexy, and laugh out loud funny. Sarina Bowen and Elle Kennedy did a great job with these guys and with showing up both of their POVs. I really thought that was what made this book so great, as it really allowed the reader to get a peek at what they were both going through. I honestly can't say enough good things about this book, and if you are a fan of the male/male genre this is definitely one that shouldn't be missed. If you are new to the genre, I highly suggest still giving this one a chance though. It was well written and a great story, and one of my favorite books I have read this year.
**ARC Provided by Authors**