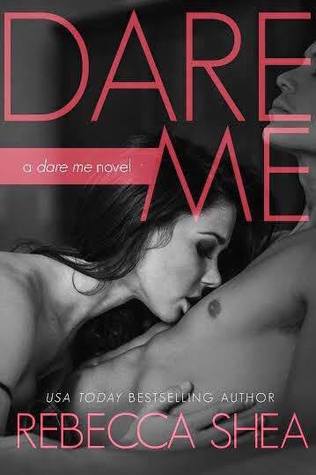 I really loved Dare Me by Rebecca Shea! This book was good from start to finish, and I didn't want to put it down once I began. There was so much to like here, and I think that this book is definitely worth the read. Dare Me is the first in the Dare Me series and is a standalone story.
While out with her new coworkers and friends, Saige Phillips accepts a dare that changes her life. She must ask out Holt Hamilton, the owner of the company she works for. Though the attraction was there for Saige, she knew it was a bad idea but she never backs down from a dare. But when things quickly turn into more for Saige and Holt, she finds herself taking a chance on something with him. Holt has secrets though, and if the truth is revealed it could ruin everything that Holt and Saige are building together.
I really loved Holt and Saige. Each of them had things that they were dealing with here that affected the way they behaved toward one another. Saige was afraid to let love in and wasn't looking for any kind of relationship. But the connection and attraction between her and Holt was something that she couldn't fight. Holt wanted Saige and was determined to show her how great they could be together if she would just accept what was happening between them. I loved how he was with her and that he realized how far he could push her out of her comfort zone, but that he also accepted that she needed to do some things in her own time. He understood her, and I really liked that he wasn't afraid for anyone to know just how much she meant to him. I will say that things happened very fast here, and this was definitely a case of insta-love. To me though, it really felt believable and as though these two were meant to be together.
I really enjoyed this book, even if it was a bit on the predictable side. I had a pretty good idea of how things would go here, and for the most part things happened as I figured they would. I still really liked the story and the characters though, and it was well worth the read. Holt and Saige were great, and I couldn't get enough of them. This one was sexy and hot, but it was also filled with emotion and things weren't always smooth sailing. I think if you can get past insta-love and things being a little on the sweet side at times, that this book is definitely one to check out. I am really looking forward to reading more from Rebecca Shea in the future and this is one I would recommend for contemporary fans.
**ARC Provided by Inkslinger PR**