My name is
Jen Frederick
and I live in Iowa with my husband, daughter, and very large dog. I really want a cat though. I keep telling my husband that I won't be a real writer until I have a cat. I didn't realize I wanted to be a fiction writer until a few years ago. At the encouragement of a few friends, I turned a NANO manuscript into a real book and I've been publishing ever since.
In my downtime, I love to read, craft, and cook. I used to sew for my daughter until she developed a taste for ready made garments. Now the sewing machine is stored away but someday I home to pull it out again.
The best part of writing is interacting with other readers. I love to share what I'm reading and I love to hear what has moved you. Don't hesitate to contact me at any time!
A USA Today bestselling author,
Elle Kennedy
grew up in the suburbs of Toronto, Ontario, and holds a B.A. in English from York University. From an early age, she knew she wanted to be a writer, and actively began pursuing that dream when she was a teenager.
Elle writes romantic suspense and erotic contemporary romance for various publishers. She loves strong heroines and sexy alpha heroes, and just enough heat and danger to keep things interesting!
First off, can you tell us a bit about you?
Jen: How about I tell you about Elle? She's pretty sarcastic, if you can't tell by some of the dialogue in her books. She loves football and plays in a bazillion fantasy leagues. She may or may not have conned me into doing one with her this fall. Her dog prevents her from writing sometimes. Someday she's going to buy a vacation home and my family plans to move with her. Don't tell her, though. That will be a surprise.
Elle: How to describe Jen…hmmm…well, I used to be a tad scared of her before I got to know her, because she seemed very no-nonsense and brutally honest. But this is why I asked her to beta read for me—I appreciate honest, blunt feedback. And then, it turned out there's so much more to Jen than I ever knew! She's hilarious, as sarcastic as I am, so frickin' sweet (even though she'll probably deny that), loyal to the core, and football obsessed—this last one is pretty much the way to my heart. You love football? ARE WE BEST FRIENDS NOW?
Did you always want to be a writer?
Jen: No! I always wanted to be a lawyer. In fact, I have a certificate from Eighth Grade that says "Most Likely to Be a Lawyer." I don't know why that was my aspiration, but it was. The writing fiction thing came later in life. I'd been an avid reader and when self-publishing exploded, I thought that I'd challenge myself to see if I could finish one book. And here we are, several books later. I guess I'm a writer now!
Elle: Always. When I was six or seven I told my parents I was going to be a writer. They just smiled and said, "Of course you will" in that let's-humor-her kind of way. And then when I was thirteen and sending out query letters and submissions to agents and publishers, my parents were like "Oh. Okay. So you're serious about this."
What kind of writer are you? Panser or Plotter?
Jen: I learned the hard way that being a plotter made for a more sane writing path. I'm a plotter now. Not as good as Elle is, but someday I'll evolve.
Elle: Both. With collaborations, I tend to really focus on plot because it's hard pantsing something when you've got two different pairs of pants. I also plot diligently for my suspense titles. But with some of my contemporary titles, I just work off a basic premise and then see where the story goes.
Where do your ideas come from?
Jen: Everywhere. Ideas are everywhere. Everyone and everything has a story. You just need to tease it out.
Elle: What Jen said!
A la Twitter style, can you describe your book (or series) in 140 characters or less.
Jen: A seventeen year-old orphan gets dropped into a pool of viperous rich kids. She fights back.
Elle: Gossip Girl meets Cruel Intentions meets over-the-top crackiness.
What are some of your favorite kinds of stories to read?
Jen: Compelling stories with great dialogue!
Elle: Thrillers with blow-your-mind ending twists!
Do you have a favorite book and if so what is it?
Jen: I have multiple favorite books! The Bronze Horseman by Paullina Simons and The Last Hour of Gann by R. Lee Smith are two that I've read multiple times.
Elle: I have so many. Wanderlust by Danielle Steel is one of my all-time faves.
What are the scenes that are the hardest for you to write? Why?
Jen: It can vary from day-to-day but I often have a tough time getting started. I write sequentially so I can't get a book written without a decent opening. I've been known to rewrite the opening of a book three or four or five times.
Elle: It really depends on the day. Sometimes I have trouble with action scenes, other times they're my favorite scenes to write. Sometimes I get stuck on a sex scene, other times they just pour out. It all depends on what my brain feels like doing (and not doing) that day.
If you could have dinner with any three authors, who would you choose and why?
Jen: J. K. Rowling because my daughter loves her. Obama because he's the president but an author too. Elmore Leonard because his dialogue is amazing.
Elle: Jen Frederick (because we really need to meet in person already). Danielle Steel because she seems so classy! And Stephen King because I love his books.
Last question, are you working on anything right now?
Jen: Yes! Royals, Book 3, and Woodlands, Book 5.
Elle: Royals Book 3. My next Killer Instincts book. And another collaboration, with Sarina Bowen. I'm a busy bee.
What's your last addictive read?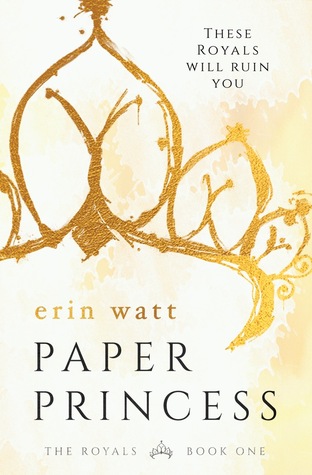 From strip clubs and truck stops to southern coast mansions and prep schools, one girl tries to stay true to herself.




These Royals will ruin you…




Ella Harper is a survivor—a pragmatic optimist. She's spent her whole life moving from town to town with her flighty mother, struggling to make ends meet and believing that someday she'll climb out of the gutter. After her mother's death, Ella is truly alone.




Until Callum Royal appears, plucking Ella out of poverty and tossing her into his posh mansion among his five sons who all hate her. Each Royal boy is more magnetic than the last, but none as captivating as Reed Royal, the boy who is determined to send her back to the slums she came from.




Reed doesn't want her. He says she doesn't belong with the Royals.




He might be right.




Wealth. Excess. Deception. It's like nothing Ella has ever experienced, and if she's going to survive her time in the Royal palace, she'll need to learn to issue her own Royal decrees.






Up For Grabs:
1 eBook copy of Paper Princess
To Enter:
What's your last addictive read?
Please fill out the Rafflecopter form.
Special thanks to Erin Watt for sponsoring this giveaway.
a Rafflecopter giveaway