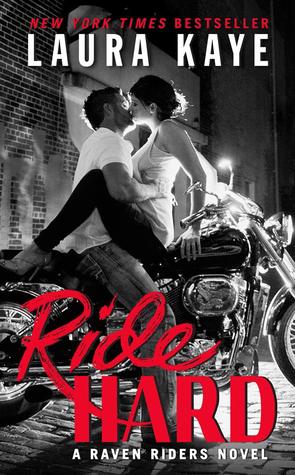 Ride Hard is the first book in the Raven Riders series from Laura Kaye. Fans of her Hard Ink series will recognize some familiar faces, but this is easily read as a standalone for those who haven't read those books. I would recommend reading Hard as Steel though if possible as it is a prequel novella that I think adds to the experience here.
Ride Hard is the story of Dare Kenyon, Raven Riders MC President and Haven Randall. The Raven Riders are known for taking those in that can't defend themselves and protecting them. So when Haven shows up at their door fleeing from her controlling ex, Dare vows to keep her safe. But Dare is also intent on discovering Haven's secrets, while Haven is naturally suspicious after everything that she has been through. But as the attraction between them continues to grow, Haven finds herself wanting more with Dare. Can Dare and Haven explore what is happening between them, or will the past destroy everything before they ever have a chance at something together?
I liked both Dare and Haven. They were very different, and yet it was obvious right away that they fit well together. Dare is an alpha and lives his life with the club and loyalty being the most important things to him. They were his family and I really liked how he would do anything to protect them. Haven on the other hand was more reserved and quiet, and it was completely understandable after all that she had been through. But she was definitely strong and I could tell right away that she was just as good for Dare as he was for her. There was a ton of chemistry between them, and I really enjoyed seeing how things progressed for them as the book continued.
One thing I will say is that this was a slow build, and there were times that my interest began to wane, especially for the first third of the book or so. I had a hard time getting into the book, and there were times I thought about just giving up. But being a fan of Laura's, I was determined to give it more time and I am glad I did. Things started to pick up a bit and I enjoyed the story. I liked the club and all they stood for, and I think that this was a really good start to the series. The only other thing that I noticed here was that the conflict was resolved a little quickly for my taste, and I had been hoping for a bit more, especially after how drawn out the story had been. But I will read more from Laura and continue the series because I did like how Dare and Haven were and how things were set up here for the next book. If you are a fan of Laura's Hard Ink series, you will definitely want to read this one and if you are new to her this is one worth checking out. Just keep in mind that it is a bit slow at times, but ultimately worth the read.
**ARC Provided by Publisher**