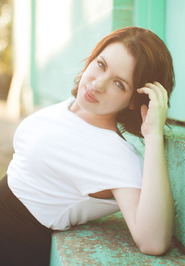 New York Times and USA TODAY bestselling author
Katee Robert
learned to tell her stories at her grandpa's knee. She found romance novels at age twelve and it changed her life. When not writing sexy contemporary and speculative fiction romance novels, she spends her time playing imaginary games with her wee ones, driving her husband batty with what-if questions, and planning for the inevitable zombie apocalypse.
I'm
Katee Robert
, and I've got something to confess (no, this isn't like the cat video…I promise!). Authors are kind of likes parents in some ways, in that we're not supposed to have favorites. Except, well, I do!
So here's my secret.
The Wedding Pact
is my twentieth book published, which is pretty freaking cool all on its own. You learn a thing or two along the way. What I've learned is that I have favorites. Favorite heroes, favorite heroines, favorite books. This one? This one is all three. This is honest-to-God my favorite couple and book I've written to date. Just don't tell the other characters…
Carrigan O'Malley has always known her arranged marriage would be more about power and prestige than passion. But after one taste of the hard-bodied, whiskey-voiced James Halloran, she's ruined for anyone else. Too bad James and his family are enemy number 1.

Hallorans vs. O'Malleys-that's how it's always been. James should be thinking more about how to expand his family's empire instead of how silky Carrigan's skin is against his and how he can next get her into his bed. Those are dangerous thoughts. But not nearly as dangerous as he'll be if he can't get what he wants: Carrigan by his side for the rest of their lives.

Purchase: | Amazon | Kindle | B&N | iTunes | Google | Kobo |


Up for Grabs:
1

$15 Gift Card (Amazon or B&N) + signed copy of The Wedding Pact
To Enter:
Please leave a comment or question for Katee.
Please fill out the Rafflecopter form to enter.
**Don't forget to enter our grand prize giveaway!**
Special thanks to Katee Robert for sponsoring this giveaway.
a Rafflecopter giveaway