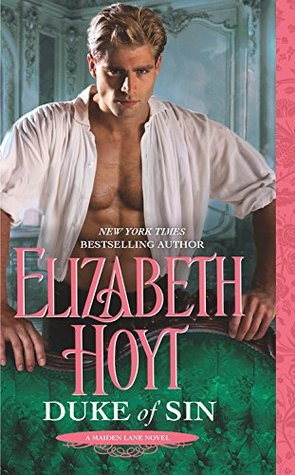 I feel like I have been waiting for "Duke of Sin " (Maiden Lane #10 ) since I started reading this series with Duke of Midnight. I was instantly hooked on the series and I've been trying to read the previous books but they are not necessary to appreciate the stories, they are easily stand alone.
First, I was so eager for Val's story I was worried I would be disappointed! But I can say there was not one word or line that disappointed me in "Duke of Sin." I devoured it! Once I started reading it I was hooked on the story, the characters and how Hoyt would unfold the story.
Let's start with Val. He is so complex, multi-layered, feral and unapologetic that I was fascinated by him. One of my pet peeves is when a hero is presented as a hero/anti-hero/ rogue and then, well, really isn't. Val is definitely a villain who doesn't find it necessary to dress in hero's clothing. He is absolutely awful and intriguing. He stops at nothing to win, and is a winner takes all type of hero. I found him so fascinating in the previous books and in his story he lives up to his reputation.
Next, the heroine- Bridget Crumb. She is a servant in Val's house. Even though this is her work she has a very specific purpose for being here. Bridget is probably the antithesis of Val. Where he grew up rich she had very humble beginnings. Where Val is egotistical, Bridget often has to be reminded to stand up for her own interests. Now, this is the part I love best! Bridget is fierce. She is not afraid of Val and doesn't back down from him. Val is instantly intrigued with Bridget. He, who is a very good study of peoples' nature, knows that there are many layers to Bridget and he is not afraid to find out what those layers are. Val and Bridget are a fantastic couple- they go down as one of my favorite. The pacing of the story is fantastic. Val who has been exiled in previous books is ready to come out of hiding. He is not afraid of society nor those who want to harm him, and because Val is a blackmailer and manipulator-he has a list of enemies. Val is anything but boring and he was so much fun to read about. Even though there are many light and witty barbs shared with him and Bridget, Val is a very deep and spirited person and there are some very dark moments in the story. However, once he cares for someone there is very little he will not do for them.
Finally, Hoyt has once again hooked me and now I am anticipating the next book "Duke of Pleasure" where the infamous Ghost is a woman! Plus, Alf! What does she have in store for her? Loved, loved, loved "Duke of Sin." Found it incredibly climatic and highly enjoyable. Now the count down to "Duke of Pleasure" begins!
**ARC provided by Publisher**