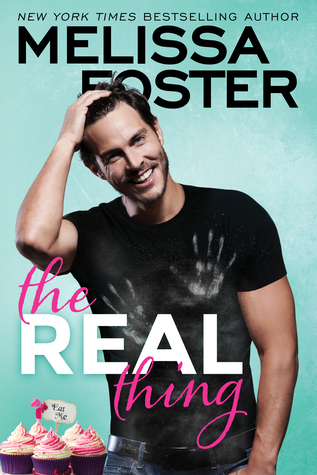 Melissa Foster is one of my favorite authors. Whatever she writes, I read. I was so excited about The Real Thing though as it is the first book in her new Sugar Lake series, and she definitely delivered here. The Real Thing was a fantastic start to this series and some of her best work yet!
Zane Walker is best friends with Willow Dalton's brother, but the two have always been somewhat close. When Willow wanted to lose her virginity she could think of no one else but Zane, and he was happy to help. Now years later he is the one asking for the favor when he finds himself needing to improve his reputation for his upcoming movie roll. But can Willow possibly hold onto her heart and avoid being hurt again when he asks her to pretend to be his fiancé?
I loved these two so much! Their relationship was fun and sweet, and their connection was strong despite not really being around one another for years. I loved that they kept in touch through text, and that whenever they really needed anything they knew it they could turn to one another. There was so much going on that neither one of them knew about, and it was clear that age and circumstances played into that a lot. My heart broke for them missing out on so much together, and yet had one thing been different things might not have worked out as they should. The one thing that was obvious was that these two belonged together, and I honestly just adored them both! Willow was super sweet and just a great person and Zane was as well.
Overall, these are some of my favorite characters from Melissa Foster yet! I don't know how she continues to come up with such unique and different characters that always feel so real. But each and every time she makes me fall in love with them and Willow and Zane were amazing. This book was sweet and sexy, full of fun moments and all the feels. You can never go wrong with Melissa Foster's books, but The Real Thing is one of my favorites of hers. I can't wait to get more in this world, and I highly recommend this one!
**ARC Provided by Tasty Book Tours**