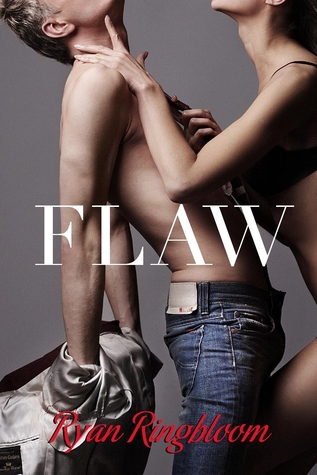 Flaw is the first book that I have ever read by Ryan Ringbloom. This book was different than anything I had ever read before, and while I liked a lot of it there were also several things that I had issues with. I think that this book had a lot of potential, but ultimately needed some work. It was a good read and I enjoyed it. But I liked it rather than loved it.
Aiden Turner has had a rough life, and lives with the evidence on prominent display everyday. He has a huge scar on his face and has dealt with the looks and whispers ever since. He mostly stays at home when he isn't working and only goes out at night or dressed in a hooded shirt with sunglasses. He is best friends with Becca who lives across the hall, and she is the only one who loves him and sees him for who he really is. When he puts up an ad for a roommate, Josh Brewster shows up and is everything Aiden isn't. Josh is all looks on the outside but is a total jerk to women and relies on his mother to do everything for him. As Aiden and Josh get used to living together, Josh meets Becca and they are instantly drawn to each other. Josh has no idea if she and Aiden are together though and he knows that he should stay away from her. Aiden and Becca are great friends and love each other, but there isn't the same chemistry between them as what Becca and Josh share. When Becca introduces them to Jordyn, things get even more complicated. Jordyn has always been known in her family as being the perfect one. She does everything she is supposed to and never has a hair out of place. But when she meets Aiden she finds herself drawn to him and looking to upset the perfect balance for once. Do Becca and Josh belong together despite his past, and can Jordyn and Aiden get past appearances? Or will these friendships and relationships be over, leaving them all heartbroken?
I didn't like Josh at first. He was a straight up arrogant jerk, and I couldn't believe some of the things that came out of his mouth and the thoughts in his head. He was sheltered and was used to his mom doing everything for him. He won me over though, and I really saw the change in him. It was real and wasn't overnight and I think that is what made it so believable. He was better because of Becca, Aiden and Jordyn. I liked who he turned out to be and it was great to see him redeem himself. Aiden was by far the highlight of this story. It was impossible not to read this book and not fall in love with him. He was sweet and caring, kind and generous. He was truly beautiful because of who he was and not what he looked like. He had been given so many bad things in his life to deal with, and yet the person he was is someone that most people could never hope to be. He was the only character in this book that I didn't dislike at one point or another. Becca had her moments that I really liked her, but she was also judgmental and immature. I felt like she had no idea what she wanted a lot of the time, and she acted childish often. I liked her with Josh and I thought that they were good for each other. But I couldn't get over some of the things that she did to Aiden, and it was hard to like her when she treated him the way she did at times. Jordyn I liked right away, but as the story progressed that changed. She was nice and kind and I liked that she didn't treat Aiden any differently. She seemed to not care about his looks and was interested in getting to know the real him. But then all of a sudden she seemed to have a total personality switch and did some truly horrible things and said so many hurtful and disgusting words that broke my heart for Aiden. I understood why he was so hurt and why he didn't want anything to do with her after that, and honestly if I were him I am not sure I would have ever been able to forgive her.
Besides the character problems I had, I felt like there were a few other things that didn't work for me. Part of Becca's treatment of Aiden was because she felt like they belonged together and needed to protect each other. She said it often, and Aiden's story was clear why he would need that. But Becca's situation was never revealed and it didn't make any sense to me. She didn't have a lot of money and she had pink hair...that didn't require protection to me. I felt like if it was going to be brought up so many times that there should have been a reason for it. I also thought that some parts of this story moved slowly while others too quickly. I saw Becca and Josh's connection develop over time and it was natural. They had chemistry from the start, but by being together and hanging out you really got to see the emotional connection start to build. But with Aiden and Jordyn, you didn't ever really get to see their emotional connection happen. They were drawn to each other and had chemistry, but they didn't really spend that much time together or talk that much before all of a sudden they loved each other. I would have liked to have seen more development there. Overall, this book had promise but could have used some tweaking in my opinion. I loved Aiden, but I found it hard to fully like or connect with the other characters in this story. I also felt like the characters in this book acted more like high school kids or young adult age rather than new adult, and that got a bit old at times. I think that this book is different and offers a sort of Beauty and the Beast feel with both couples. I think if you are looking for a NA read that has a different take most of the NA books out there that you might give this one a shot. I would be interested to read more from Ryan Ringbloom in the future.
**Review Copy Provided by Book Enthusiast Promotions**
Purchase:
|
Amazon
|
Kindle
|
B&N
|