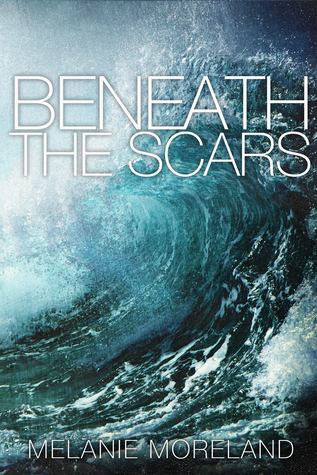 Beneath the Scars is the first book that I have read by Melanie Moreland, and I really enjoyed it. It was emotional and sweet, and I loved the connection I felt between the characters. This story was different from others that I have read, and I thought that it was really refreshing to read something that wasn't like anything I have read recently. I enjoyed Melanie's writing style, and I will definitely be looking for more from her in the future.
Looking for a quiet and peaceful escape, Megan Greene heads to her friend's beach house in order to get away from the mess her life has become at home. There she stumbles upon her friend's rude and unfriendly neighbor. At first Megan tries to get to know Zachary, but it soon becomes apparent that he wants nothing to do with her. But when a storm and some bad luck bring them together, things quickly change between them. Zachary is known around the small town for being a mysterious loner, but Megan refuses to give up on him and is determined to get to the bottom of what is really going on with him. As they become closer, Megan quickly finds out that Zachary has many secrets and a past that he refuses to let anyone in on. But in order to move forward with anything between them, Megan knows that she needs to find out what happened to turn Zachary into the person that he is today.
I didn't really know what to think of Zachary right away. He comes across as a cold and unfeeling jerk that couldn't be bothered with even acting civil towards others. But soon you get to see that he has been through so much and has had such a hard life. He is a product of his environment growing up and through the treatment that he received from everyone that surrounded him. I felt so badly for him and all that had happened, and I was amazed that he was able to go through as much as he did and yet still be able to let Megan in as much as he did. She was special and saw through his facade, and I don't think anyone else would have been able to reach him like she did. Megan was kind and supportive, and I really liked how she was able to always see the best in Zachary. She saw how his struggles and pain made him the person he was, and she loved him even more for it. Megan and Zachary were a great couple, and I think that they were exactly what the other needed. Zachary was able to finally start to see that there were people out there worthy of trust and that would love him despite his insecurities.
Overall, I thought that this was a really great story. I enjoyed seeing the journey for both Megan and Zachary and I loved how real it was. There was pain and heartbreak, but at the heart of this story was love and hope. This book really showed that even the most broken of people deserve happiness and that forgiveness can set anyone free. I loved Zachary and Megan and although their story wasn't always easy, it was absolutely worth the read. This book had some dark moments and difficult topics, but was actually a really sweet and romantic book. I really enjoyed seeing Zachary and Megan as they showed each other how loving and thoughtful they could be. I would recommend this story if you are looking for a sweet and loving romance. I think that a lot of readers will really connect with these characters and enjoy Melanie's writing style as much as I did.
**ARC Provided by Xpresso Book Tours**
Purchase:
|
Amazon
|
Kindle
|
B&N
|