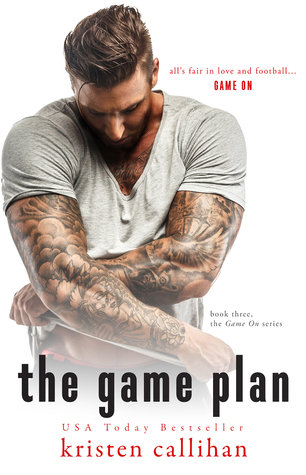 I absolutely love the Game On series from Kristen Callihan. Each book is a standalone novel with interconnected characters, so don't be afraid to start here with The Game Plan if you haven't read the first two books. I have been waiting for this story since I finished The Friend Zone and saw how much chemistry was between Dex and Fiona. They definitely had a ton of heat between them and I enjoyed their story.
Ethan Dexter has wanted Fiona Mackenzie since he first met her. But she was his best friend's younger sister-in-law and she never saw him as anything more than an acquaintance. But when they both end up staying at Gray and Ivy's house, the sparks between them explode. Dex and Fiona are both ready for more, but with them living in separate cities they know that things won't be easy. While Dex wants to try, he has his work cut out for him with convincing Fi. But Dex isn't afraid to do whatever it takes to show Fi that he is the one for her and that they belong together.
I really liked Dex and Fi together. These two were beyond hot, and anytime they were together sparks were flying. The amount of steam between these two was unreal, and they never failed to show just how much they wanted one another. Dex was sweet and caring, and I thought that he was exactly what Fi needed. He was a really good guy, and I liked that he wasn't a total manwhore. It was nice to see a guy with little experience rather than the girl, and there was something great about the fact that he never gave up on Fiona, even knowing that he had to wait awhile to pursue her. He didn't fill his time with other women to distract himself while he waited and that was really refreshing. Fi was flighty here and had a tendency to run away from her problems. I will admit that got a bit old to me, and I wished that she would have talked more to Dex. Luckily she didn't let it get too far most of the time, but I still wanted her to wise up sooner than she did.
I did think that there was a bit more drama here than I was expecting, and it seemed to be coming at these two from all sides. There were so many things standing in the way, and just when it would appear to be settling down something else would happen. Not that I expect a story to be smooth sailing the whole way, but at what point does some of that become unnecessary? The thing that bothered me the most about all of it was that they didn't talk to one another and they just instantly reacted. I really expected their communication to get better over the course of this book, but it just didn't. These two were already trying to make a long distance relationship work, and communication is very important in any relationship, but definitely when you are apart more than you are together. So the fact that they both just kept doing things without talking to one another and then they would quickly make-up before moving on to the next was something that drove me a bit nuts here. I still really love this series, and I did love Dex and Fi. I just thought that this book was a bit all over the place at times and the back and forth got to be a bit much for me. The Game Plan wasn't my favorite of the series, but I do really like this series and it's characters. Kristen Callihan is absolutely worth the read, and I would still highly recommend this series!
**ARC Provided by Bocci PR**