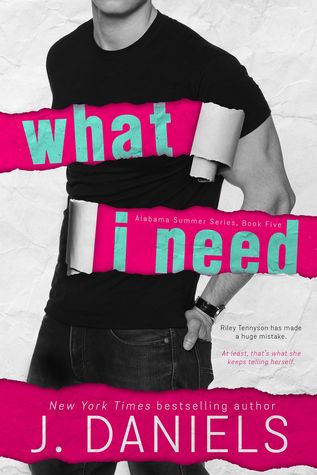 What I Need is the newest standalone story in the Alabama Summer series by J. Daniels, and I have been waiting for this book! If you are a fan of this series, this is CJ's book and I couldn't wait to get to know him even better. This book was everything that I had hoped it would be and I think fans are going to love his story just as much as I did. Don't worry about jumping in here though if you haven't read the previous books, you do not need to have read them to understand anything here. I do recommend reading the previous books though as you get to know all the characters and they are great books!
Riley and CJ had a super hot wedding hookup that didn't go as planned. Riley thought that she and her boyfriend had broken up and CJ thought that their time together was the start of something more. But when Riley discovers things weren't as over as she thought, she begs CJ to keep things a secret from everyone. Then everything changes and Riley can no longer avoid CJ. When she is forced to face her feelings and the fact that she can't get him out of her head, Riley must decide what her future looks like and if things between her and CJ can remain friendly or if their one night together is more than she ever expected.
I really loved CJ! He was sweet and sexy, and just a genuinely good guy! Everything that I had loved about him before was here in this book, but honestly he was just so much more. I loved the fact that his heroine was Reed's sister. It just all fit so perfectly and I thought that Riley was exactly what he needed. Riley was a bit frustrating for me for the first half of the book though. There were times I wanted to shake her, even though I did understand some of why she was the way she was. But honestly seeing her really get to know CJ and the type of guy he was was so worth it in the end. These two had a genuine connection and off the charts chemistry. I really enjoyed seeing things develop at a natural pace and it never felt rushed or forced. These two were so right together.
Overall, this was a great addition to the series and I could not have loved CJ more. This book was definitely worth the wait. I enjoyed seeing familiar faces as well, and getting to check in with all my favorites. Honestly though, CJ just might be my new favorite! He is what you always hope for in a book boyfriend, and I think readers are going to love him! I cannot recommend this series enough, and I can hardly wait to read more from J. Daniels in the future.
**ARC Provided by Inkslinger PR**