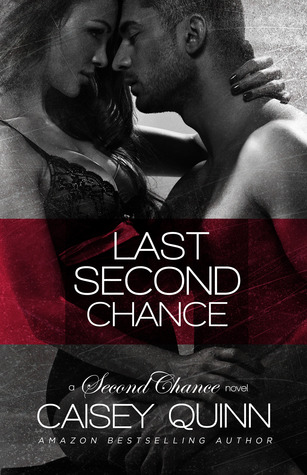 Last Second Chance is the first book that I have read by Caisey Quinn, but I have been hearing really good things about her books. I figured that a book about a hot rock star was the perfect book of hers for me to start with, and I absolutely loved it! I loved her writing style, and I adored the characters. This book was so enjoyable and I didn't want to put it down!
After an accident, Stella Jo Chandler gives up riding horses and the dream of winning the Triple Crown. She heads to college and avoids going home to her family's ranch. When she is about to graduate she gets offered a job at the Second Chance Ranch as a client care coordinator. They cater to celebrities and high profile clients that need a private place for rehab. After visiting she accepts the job and runs into Van Ransom on her first day there. She is instantly drawn to the hot tattooed rocker, but with the no fraternization rule she isn't willing to to risk her job to just be another notch on his bedpost. Van is on his last second chance and needs to make this stint in rehab work. If he fails again his record label will remove him from the band and he will lose everything he has worked for. He finds himself drawn to Stella and decides that he wants her and he always gets what he wants. As Stella and Van are around each other more they realize that there is more between them than just attraction. But with both of them having painful pasts that they are trying to escape, and so much riding on Van's success in rehab can they find a way to make a relationship between them work?
I really loved Van! He was cocky and confident and super sexy. He was used to getting what he wanted and he never heard the word no. Because of his painful past he self medicated with women and drugs. I loved watching him start at such a low point and seeing how he changed for the better. Stella brought out the best of him and he wanted to be better when she was around. I was really glad to see that although he had his struggles, he really didn't have a hard time cleaning up his act for her. Stella was strong and smart and I really liked her character a lot. After her accident she shut everyone out and wasn't really living, but Van brought her walls down and brought her to life. They were really great for each other and I liked them together. They had off the charts chemistry and were smoking hot together! But what made their relationship so great was that they connected emotionally as well as physically.
This book was beyond fantastic and I really loved everything about it. Van and Stella were easy characters to like and relate to and they were so real. What made this story so great is that these characters were flawed and showed that anyone can overcome even the worst of things and make a future for themselves that they didn't expect or imagine. I really was invested in this story from the beginning and kept rooting for these two until I had read the last word. Van and Stella will stick with me and their story is a must read! I highly recommend this book and can't wait to read more from Caisey Quinn!
**ARC Provided by Inkslinger PR**
Purchase:
|
Amazon
|
B&N
|