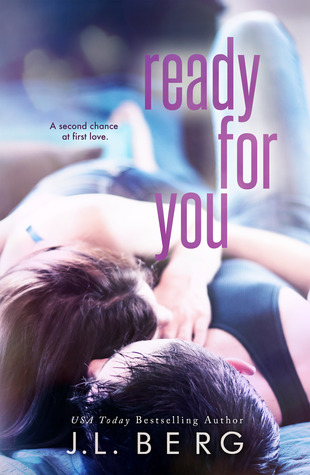 Ready For You is the third book in the Ready series by J.L. Berg, and I have been dying to get my hands on this one! This series is one of my all time favorites, and I love each book so much. Ready For You is Garrett and Mia's story, and I have been anxious to get to know Garrett better ever since he was introduced as Clare's brother. This series has interconnected characters, but each book can be read as a standalone. I highly recommend starting at the beginning though so that you get to know each other these characters and see everything that they have been through, and because they are all fantastic!
Eight years have gone by since Garrett lost the love of his life. He had been planning on spending his future with Mia, but she disappeared the night of their graduation. Now years later, he is living in a tiny apartment and working a job that he hates. He has no plans to ever be with anyone seriously and knows that Mia was his one chance at love. When Mia suddenly reappears in town, she never expects to run into Garrett. There are so many things that were left unresolved that they both know they need to work on. Garrett begins to help Mia fix up her new house, and they get to know the people that they have become. The connection they once felt is still there, but with so many painful things from their past can they possibly move forward to a future together?
I really loved Garrett. He had always been the quiet and brooding type in the previous books, but you could tell there was so much more to his character. Once things started to be revealed in this book, I felt so bad for everything that he had been through. He was devastated after losing Mia and he was just surviving. It was so great to see him and Mia reconnect and to see him start living again. Their connection was so strong to be able to survive everything that they had been through, and I loved watching them open up to each other again. Mia had made mistakes, but she was forced to deal with so much at such a young age. She was alone and struggled without any help, and I felt bad for her as well as Garrett. I thought that these two were absolutely perfect together though. They were sweet and loving, and they were such a great match for one another. I honestly don't know if I have ever read about a couple that was so natural together. Their relationship was one that just fit, and you knew these two would end up together because there was just no other option. They were emotionally connected, but were also extremely attracted to each other.
Overall, I really loved this book. I always wonder after I finish a book in this series how J.L. Berg will possibly be able to write another that is as good or better than the last, and every single time she does it! These books are fantastic, and are so wonderfully written. I love her writing style, the pacing is always perfect, and the characters are always deep and easy to relate to. She has a way of drawing you in with these unique and different characters, and I love that they aren't the same cookie cutter types that you get so often with contemporaries and new adults. If you haven't read anything by J.L. Berg yet, you are seriously missing out! I highly recommend every book in this series, and this one was just another to add to my favorites list! I will literally read anything by J.L. Berg at this point, and I can't wait to read the next Ready book as well as whatever else she comes up with in the future!
**ARC Provided by Inkslinger PR**
Purchase:
|
Amazon
|
Kindle
|
B&N
|