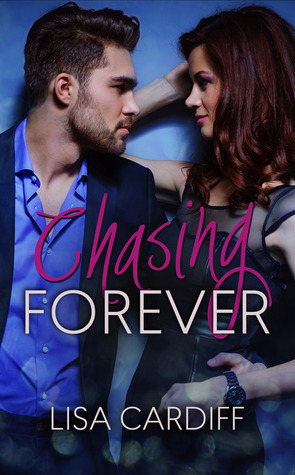 Chasing Forever is the first book that I have read by Lisa Cardiff, and I found it to be enjoyable. I liked the characters and the story. I am a fan of second chance romance stories, and this one was entertaining and kept me interested. I did have a few things that kept me from rating this one higher, but overall this was a good story.
Regan Pierce is in law school and is starting her summer associate position with one of the best law firms in San Francisco. When she shows up to meet her mentor for the summer, she finds none other than Lucas Evanston the guy who humiliated her and broke her heart in college. Forced to work together, she makes an uneasy truce with him to try and keep things professional and to never bring up the past. But soon, their attraction and feelings from long ago are more than either of them can fight. Can Regan protect her heart and keep Lucas at arms length? Or will Lucas find a way to get Regan to give him a second chance and a shot at a future together?
I liked Lucas, but I didn't always understand him. I honestly still have no idea why he did what he did, and why he never spoke up and told Regan the whole story. It doesn't really make sense to me, and I have no idea what he was thinking. He was sexy though, and determined. I loved that he was so dedicated to getting Regan to change her mind about him and give him a chance. He was relentless, and I liked that he pursued her though everything. I also thought that he had some really sweet moments, and that he never forgot a single thing about her. He remembered all of her favorites and he even saved something from the first time that he met her and never went without it. Regan was easy to want to root for, but at times she also made it really hard to like her. She forgave Lucas really easily and yet then she would throw it back in his face at times. She also never gave him the chance to explain things and jumped to conclusions really easily. I kept wanting to smack her upside the head and tell her to just listen for once. I do understand that she had been hurt and had a lot of pain from everything that had happened, but you can't agree to give someone a shot one second and then constantly assume and judge the next second. It was a bit of whiplash, and even Lucas said as much in the story. I did think that they had great chemistry, and once they finally went there things were steamy between them.
I think that this was a good story, and I do think that Lucas and Regan were great together. I think that they fit well and you could feel the attraction between them. But I also feel like their past was dropped way too quickly and that their feelings were rushed. I wanted to see more of them working towards a future, and I felt like things were just resolved a bit too easily. I think that the past and everything that had happened between them was a bit anticlimactic for the reader because the characters just seemed to sort of brush it under the rug. I couldn't quite get behind the relationship because of how things were handled. I also felt like even though I hated Olivia, that she was pretty much a non-factor in this story. For being the villain and the one that we are supposed to hate, she had a fairly small part in the story, and was too easily vanquished. I was happy enough with the ending, but I do feel like we could have been given a bit more. I hope that in the next book things are a bit more resolved, because to me their story just felt unfinished. I do think that Regan and Lucas's story is one that a lot of romance fans will enjoy, and I am interested to read the next book in the series and see what else Lisa Cardiff has planned next.
**ARC Provided by Inkslinger PR**
Purchase:
|
Amazon
|
B&N
|