Emily Greenwood
worked for a number of years as a writer, crafting newsletters and fundraising brochures, but she far prefers writing playful love stories set in Regency England, and she thinks romance novels are the chocolate of literature. A Golden Heart finalist, she lives in Maryland with her husband and two daughters.
Find Emily at:
A Spoonful of Delicious Trouble
Love potions are the kooky troublemakers of romantic stories. I've never been able to resist a story with a love potion in it, probably because of the possibility for crazy things happening to the lovers. There's always chance that the "potioned" person will expose themselves in some way, or fall in love with the wrong person, who's maybe the right person after all. Love makes fools of us all, doesn't it, so why not make it worse? =)
That's pretty much what I was thinking as I wrote
MISCHIEF BY MOONLIGHT
, in which the heroine, Josie, gives the Earl of Ivorwood a love potion, hoping to make him fall for her sister. Instead, she unleashes wild results that pull Josie herself under the handsome earl's spell, which is something of a disaster since Josie's already engaged.
To get this Regency era story going, I just needed to find out what was in those old love potions. Elixirs and potions were popular in nineteenth century England, but determining the substances that would have been used in a love potion and that would also have real and interesting results wasn't a snap.
Sure, people have been trying to play Cupid with various substances forever. In the legend of Tristan and Isolde from the 12th century, for example, the pair ingests a potion that makes them fall in love and leads to a love triangle. And Shakespeare made comical use of a love potion in A Midsummer Night's Dream.
But as to what exactly was in the love potions, the information is often vague, probably because many of them were magical =). Some potions were certainly made of things considered to be aphrodisiacs—these were meant to stimulate sexual desire in general, while a love potion would have had the particular goal of trying to stir love or desire in one person for another. The ancient Romans valued a plant called satyrion, which seems to have been in the orchid family, as an aphrodisiac. And how about the Elizabethans, who used prunes to stir desire? Not sure I want to picture that love scene…
Actually, though, and more helpfully for a writer of romantic stories, hallucinogens were also used in love potions. Which makes sense, when you think about it, at least from the potion-maker's point of view, since they'd want repeat customers: the hallucinogen would certainly have made the person who took it act differently— a visible result! And with any luck, it might even open his or her mind to possibilities not considered before—or people who'd not caught the person's eye before.
So in the end I had quite a bit of fun with Josie and Colin, my star-crossed lovers, and the potion that starts all the trouble, and I hope readers will, too.
Do you know of any interesting love potion ingredients or aphrodisiacs…or have you ever perhaps wanted to give someone a love potion?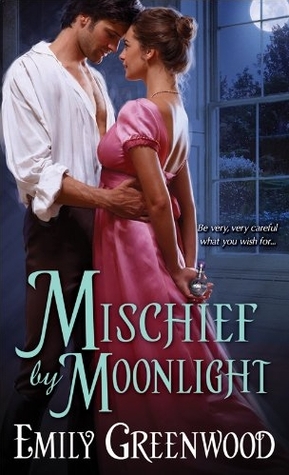 With the night so full of romance...

Colin Pearce, the Earl of Ivorwood, never dreamed he'd desire another man's fiancée, but when his best friend goes off to war and asks Colin to look after the bewitching Josie Cardworthy, he falls under her sparkling spell.


Who can resist mischief?

Josie can't wait for the return of her long-absent fiancé. If only her beloved sister might find someone, too...someone like the handsome, reserved Colin. A gypsy's love potion gives Josie the chance to matchmake, but the wild results reveal her own growing passion for the earl. And though fate offers them a chance, a steely honor may force him to reject what her reckless heart is offering...

Purchase: | Amazon | Kindle | B&N |
Check out what's up for grabs.
Up For Grabs:
1

copy of Mischief by Moonlight
To Enter:
Please answer Emily's question: Do you know of any interesting love potion ingredients or aphrodisiacs…or have you ever perhaps wanted to give someone a love potion?
US shipping ONLY.
Please fill out the Rafflecopter form.
Special thanks to Emily Greenwood for sponsoring this giveaway.
a Rafflecopter giveaway