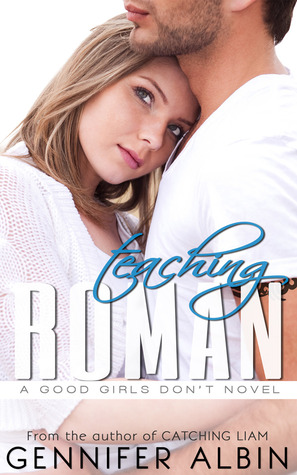 I have been waiting for Teaching Roman ever since I finished Catching Liam by Gennifer Albin. This book is the second in the Good Girls Don't series, and I couldn't wait to get more of Jess and Roman. It has not been an easy wait, and this book had delay after delay. But it was definitely worth it to wait, because I really enjoyed the story and I loved Jess and Roman even more than I did before reading this book. It was great to catch up with Jillian and Liam, and I am already looking forward to Cassie's book next.
When Jessica Stone's boring boyfriend proposes to her, she turns him down and decides it is time for a change in her life. Her friend Cassie comes up with the idea of spending their winter break in Mexico. At the airport Jessica and Cassie run into the sexy communications instructor that Jessica has always been attracted to. He is also on his way to Mexico to visit his grandma. Jessica and Roman decide to spend a week together in Mexico exploring things between them before returning to campus. But as things heat up between them, their feelings also begin to grow. Soon Jessica is falling in love with Roman and wondering how they can possibly done after just a week. Can Roman and Jessica figure out a way to be together after their week is up? Or will things be too complicated once they return to their normal lives?
I really liked Roman. He was sweet and sexy and I liked how he was able to bring Jessica out of her shell. He brought her to life and was able to bring out all these other sides to her. He was smart and dedicated, but he was also passionate as well. He really loved Jessica and you could tell how much he was willing to do for her. Jessica had always been the good girl living life according to plan. She studied and was used to having a simple relationship that worked for her even if it wasn't love. But Roman really awakened a completely different side to her and she was able to really feel love and passion for the first time. It was clear just how much she had been missing with Brett and that she had never felt anything like what she did with Roman. Jess and Roman had a ton of chemistry and were super hot together. But they also just worked as a couple and you could really see the emotional connection and love between them.
Overall, I would definitely recommend this book to NA fans and I think that this was a really great story. I liked Jess and Roman a lot and it was great to see all the characters that I liked from Catching Liam again. This book can be read as a stand alone and it isn't necessary to understand the story if you haven't read the first book. I would highly recommend starting at the beginning though because not only is the book really good, but you also get to see how Liam and Jillian got together and you also get to see the start of Roman and Jessica as well. I really like Gennifer Albin's writing style, and it is so easy to get lost in her stories. The characters are always great, and this one was no exception. I didn't want to put this one down and was finished before I even realized how far along I was into it. I love this series, and I can't wait to read more from Gennifer Albin in the future.
**ARC Provided by Inkslinger PR**
Purchase:
|
Amazon
|
B&N
|